General Application Information and Requirements
OFFICE OF ADMISSIONS
HEALTH SCIENCES TOWER, Level 4 - Room 147A
STONY BROOK, NEW YORK 11794-8434
Telephone: (631) 444-2113
E-mail:somadmissions@stonybrookmedicine.edu
SCHOOL OF MEDICINE OPEN HOUSE
Friday, March 4, 2016
Health Sciences Tower
Level 2, Lecture Hall 2
2:00 p.m. - 4:00 p.m.
For more information, please contact us at somadmissions@stonybrookmedicine.edu
We are happy to provide this general information to you. If the information you seek is not provided here, please feel free to write, telephone or e-mail us at the address listed above.
You can find the following information on this page:
| | | | |
| --- | --- | --- | --- |
| | About the University | | Stony Brook University Hospital |
| | The Health Sciences | | Clinical Affiliates |
| | The School of Medicine | | Special Programs/MSTP (MD/PhD), MD/MPH and MD/MBA |
| | Curriculum | | Admissions & Procedures |
| | Application | | Scholars For Medicine Program (Bachelors/M.D.) |
| | Financial Information | | State Residency |
| | Housing | | Correspondence |
| | Grading and Honors | | Health Sciences Bulletin |
| | Who's Who in the SOM Admissions Office | | Directions to the School of Medicine Admissions Office |
| | Life on Long Island / NYC | | |
About the University...
Stony Brook University is a comprehensive university center that is recognized as one of the nation's finest. As the major research campus in the State University of New York system, Stony Brook offers programs of the highest quality in areas of great public need, including the health sciences, engineering and applied sciences, public policy, marine and environmental sciences, and the arts. Internationally renowned faculty members offer courses from the undergraduate to the doctoral level for more than 21,000 students enrolled in more than 100 undergraduate and graduate degree programs. Extensive resources and support services help foster intellectual and personal growth. Stony Brook ranks second in per capita faculty research to Berkeley among public research universities. According to a survey by the Association of University Technology Managers, Stony Brook University emerged in the top 10% in royalty earnings among all universities and recently became a member of the Association of American Universities, a prestigious 102-year-old organization of research universities.
Located 60 miles from New York City on the north shore of Long Island, the campus is surrounded by a charming, picturesque, and historically rich community which offers some of the finest beaches on Long Island. Stony Brook offers ample opportunity for recreational boating, fishing, diving, and other water sports. In close proximity are Fire Island, the Hamptons, and beautiful Atlantic Ocean beaches.
The University campus provides a wide spectrum of activities. Medical students have ready access to all student facilities, including a new student union, an extensive sports complex with indoor and outdoor tracks, pool, squash and racquetball courts, weight room, athletic fields, and 20 tennis courts. In 1999, Stony Brook elevated its entire intercollegiate athletic program to NCAA Division I, competing regularly in football, basketball and lacrosse. The Staller Center for Fine Arts provides an extensive selection of cultural events throughout the year. Professional music, dance, theater, fine art and film are featured, with performances by internationally renowned musicians, dancers, and actors. Students may take advantage of special discounts on many events.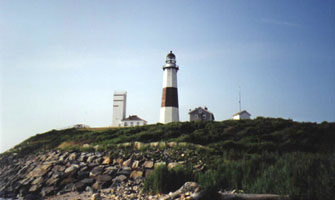 The Health Sciences ...
The University's Health Sciences was established in 1972 to address the shortage of health care professionals and improve access to the most sophisticated types of medical care for residents of Nassau and Suffolk counties. Today, it is Long Island's only comprehensive academic health center, with a fourfold mission in education, research, patient care and community service. The center consists of the professional schools of: Dental Medicine, Health Technology and Management, Nursing and Social Welfare, as well as a Graduate Program in Public Health. The center also operates the Long Island State Veterans Home, a 350-bed facility offering residential and day care for veterans, and maintains affiliations with more than 150 hospitals, clinics, and social and public agencies.

Health Sciences Library & Barry S. Coller, MD, Learning Center serves the educational, clinical and research information needs of the faculty, staff and students. The Library provides access to the Medline and MDConsult databases as well as more than 1,500 electronic full-text journals. The microcomputer learning center contains 74 work stations, three computer class rooms and a reference area with an additional 100 work stations. Students have full access to the internet and many specialized computer programs.

The School of Medicine...
The School of Medicine at Stony Brook, which consists of eight basic science and 18 clinical departments, is responsible for the preclinical and clinical education of students in the five schools of the Health Sciences and for the instruction of students in other schools on the campus. The School of Medicine also provides graduate, post-graduate and continuing education.

Offering excellent research and clinical opportunities, the School of Medicine has attracted a faculty of national and international renown. Our faculty has made important research discoveries leading to the development of ReoPro, used in coronary disease treatment, and Periostat, used in periodontal disease treatment. Scientists have developed the yeast two-hybrid system, a highly-cited technologic breakthrough, which has revolutionized the study of protein-protein interactions. Recently, members of our Microbiology Department received international recognition for chemically synthesizing poliovirus.

The Center for Molecular Medicine is designed to meet the specific needs of the School of Medicine's thematic research programs. The center offers facilities for transgenic animal experiments, high resolution NMR, x-ray diffraction, and molecular modeling studies, as well as isolation rooms for experiments using pathogenic organisms. A highly advanced informatics system links researchers to scientists throughout the world.

In 1998, Stony Brook established an NIH funded General Clinical Research Center (GCRC), which offers the very latest in clinical research and provides a strong infrastructure that enables clinician scientists to conduct extramural supported research studies. The NIH also supports major training programs in Pharmacology, Cancer, Genetics, Cell and Developmental Biology, and Biophysics.
THE LEARN CURRICULUM
The curriculum changes at the Stony Brook School of Medicine will provide the opportunity for extensive and integrated training in the basic medical sciences and clinical disciplines of medicine. The curriculum includes three phases. Phase one begins with an orientation and transition course and then a six month course which covers the basic building blocks of medicine: anatomy with an introduction to radiology and orthopaedics, biochemistry, genetics, cell biology, cellular physiology, basic principles of pharmacology and pathogens and host defense mechanisms. The next twelve months of phase one are spent learning an organ systems-based approach to pathophysiology and therapeutics. Themes in medical education are also spread throughout this phase. They include such topics as medical ethics, health maintenance and prevention, patient safety and an introduction to clinical medicine. Phase one provides time for a summer vacation and/or research/global health studies. It also provides structured time to prepare for USMLE Step 1. Phase two spans one year and includes the core clerkships: internal medicine, primary care medicine, pediatrics, obstetrics and gynecology, surgery, emergency medicine, anesthesiology, neurology, psychiatry and radiology. Phase three represents the transition to residency. This phase includes a subinternship requirement, an advanced clinical experience, a transition to residency course and electives. This phase is to create a well-rounded medical student who is also specifically prepared for the rigors of their specialty choice. Throughout phases two and three, are translational pillars which are designed to integrate basic medical sciences with the clinical phases.
For additional information concerning the LEARN Curriculum. visit the webpage at: http://medicine.stonybrookmedicine.edu/ugme/education/MD
Grading and Honors...
The official transcript reports one of three grades for Phase I course : Honors, Pass or Fail. Phase 2 & 3 students are evaluated with Honors, High Pass, Pass, Low Pass and Fail grades. The faculty has determined that a successful candidate for the M.D. degree must pass each unit of the curriculum. Waivers of units of curriculum are offered only to those who, because of prior experience, are able to place out through examination. The student's acquisition of necessary clinical and laboratory skills requires attendance and demonstrated competence with patients, as well as in cytology and dissection laboratories. Passing USMLE Step 1, Step 2, and all end of year OSCEs is required for promotion and graduation.
A chapter of Alpha Omega Alpha, the national honor medical society, was established at the School of Medicine in 1985. The society's purpose is to recognize and perpetuate excellence in the medical profession. Each year, member chapters elect outstanding medical students, graduates, faculty, and honorary members to its ranks.
In 2004, the School of Medicine became a charter member of the Gold Foundation Humanism Honor Society. The Gold Foundation Humanism Honor Society honors senior medical students, residents, role-model physician teachers and other exemplars recognized for "demonstrated excellence in clinical care, leadership, compassion and dedication to service." Organized to elevate the values of humanism and professionalism within the field of medicine and its constituent institutions, the Society is fast becoming integrated into the educational environment .
Clinical Training & Special Programs...

Stony Brook University Hospital
Stony Brook's University Medical Center, a collaboration between Stony Brook University Hospital and Stony Brook University School of Medicine, serves the healthcare needs of Long Island residents. SBUMC is a 603-bed tertiary care hospital that is diverse, forward-looking and succeeds at delivering a broad range of tertiary, urgent and primary care services to a broad patient base. The hospital cares for more than 31,900 inpatients and treats more than 96,000 people in its emergency department each year. Close to 3,900 babies are born here yearly and over a 1/2 million patients visit the hospital for physician care, and ambulatory diagnostic and treatment services. With extensive laboratory services, sophisticated instrumentation and computerized physiological monitoring systems, Stony Brook University Medical Center offers the most highly specialized diagnostic and treatment programs available. As a premier academic medical center, Stony Brook is responsible for healing the sick, educating skilled healthcare professionals, uncovering the complexities of disease and discovering new treatments, and reaching out to the community to inform and teach. We fully embrace patient and family centered care, and consider our patients and families to be integral members of the healthcare team.
The School of Medicine has established affiliations with many institutions and agencies. These affiliates serve as major resources for the educational, research and clinical programs of the schools.
Nassau University Medical Center includes a 615-bed acute care facility integrated with a network of ambulatory primary care and specialty sites, and an 889-bed long-term care facility.
Veterans Affairs Medical Center at Northport is a full service facility currently operating 508 hospital beds with an additional 190 nursing home care beds.
Winthrop-University Hospital - In 2011, Stony Brook established a regional clinical campus at Winthrop University Hospital that provides an excellent educational experience for selected third and fourth year medical students. Winthrop University Hospital, located in Nassau County, is a 550 bed academic medical center with 300 full time faculty, and 248 residents training in all major specialties. Winthrop offers over 20 accredited subspecialty fellowships. A new academic and research building provides a state of the art home for the academic medical student education program. Third and fourth year students have the opportunity to complete all of their third year core clerkships and many of their fourth year course work including sub-internships and electives. A fully functional Simulation Center affords on-site OSCE and secure NBME shelf examinations. Approximately 40 students desiring to complete their training at the Winthrop Clinical Campus will be chosen through a lottery process at the end of their second year.
Brookhaven National Laboratory Clinical Research, Medical Department is exclusively a component research institution of the Brookhaven National Laboratory and sponsors basic and applied research dedicated to the improvement of human health.
Southampton Hospital is a 125-bed -voluntary, not for profit facility. The Hospital offers a full continuum of ambulatory and inpatient services ranging from primary medical care to specialized surgical procedures, and is staffed by more than 230 physicians, dentists and allied health professionals representing 44 medical specialities.
Peconic Bay Medical Center is a 182-bed not-for-profit medical center, including a 60-bed Skilled Nursing and Rehabilitation Center, Peconic Bay Physical Therapy & Rehabilitation Center and Peconic Bay HomeHealth Services, a certified home health agency.
Special Programs...
The School of Medicine offers several enrichment programs which enhance a student's professional and personal development.
MSTP (MD/PhD)
The Medical Scientist Training Program (MSTP) is a combined M.D./Ph.D. Program that can be completed in six to eight years. It is one of the select programs nationwide supported by the NIH (National Institute of Health). Training experiences in both basic and clinical research are offered. Collaborative research relationships exist with other biomedical reseach institutions on Long Island, including Cold Spring Harbor, and Brookhaven National Laboratory. MSTP Students receive a stipend and a full medical and graduate school scholarship that covers tuition, health insurance and fees. For more information please visit the website.
Scholarly Concentrations Program
The Scholarly Concentrations Program is a four-year track opportunity for medical students to engage in and attain recognition for scholarly pursuits in related areas of medicine. Under this Program, students have the opportunity to do academic exploration in basic sciences, translational research, global health, medical education, or the humanities/arts. The program aims to align the areas of interest of students with the academic mission of the School providing a longitudinal area of work to the student experience at the School of Medicine. For many students, this period has been extremely helpful in shaping career goals and in building an academic track record attractive to residencies.
Master of Public Health Program (MD/MPH)
Please visit the website for the Master of Public Health Program (MPH) offered at Stony Brook University. The Founding Class was admitted in fall, 2004.
MD/MBA
Please visit the website for the MD/MBA Degree Program offered at Stony Brook University.
Institute for Medicine in Contemporary Society is a unit in the Division of Medicine in Society, Department of Preventive Medicine. The Institute was established in 1990 to develop interdisciplinary programs that explore the complex relationships between medicine and contemporary culture. The Institute sponsors lectures, visiting fellowships, and artists in residence whose focus is to foster the human and creative dimensions of health care; and also publishes a quarterly journal, Contexts: A Forum for Medical Humanities
The State of New York requires that all students admitted will have completed at least two years of college; however, few applicants without a baccalaureate degree are successful.


Medical School Admissions Requirements

Biology- 2 semesters with lab, one of which should include a course in cell biology or genetics

Chemistry- minimum of 4 semesters including coursework in general and organic chemistry and a course in biochemistry. A minimum of 3 semesters of lab is required.

English/Writing- 1 semester

Physics- 1 semester with lab

Social Science/Humanities- 1 semester of either psychology, sociology, logic or ethics, anthropology or philosophy

Statistics- 1 semester

Advanced Placement (AP) credit will be considered for a course in which the applicant achieved a score of 4 or 5. AP credit not to exceed one course in a specific discipline.

Applicants may be invited for an interview prior to fulfilling all the requirements. These requirements must be satisfactorily completed in full prior to matriculation into the School of Medicine. Applicants offered an acceptance who lack any of these requirements will be required to complete the course(s) with a grade of C or better prior to matriculation.


The Medical College Admissions Test (MCAT) must be taken within three years of matriculation (i.e. for 2016 entering class the oldest MCAT accepted would be 2013). Foreign applicants must have completed at least one year of study in an American college or university.

The Committee on Admissions carefully examines each candidate's preparation and promise for creative work in medicine, regardless of the candidate's area of concentration prior to medical school. Applications from a wide variety of students with diverse backgrounds, experiences, and academic interests are encouraged, as well as from groups that have been historically under-represented in medicine. The School of Medicine adheres to the AAMC definition of underrepresented in medicine: "Underrepresented in medicine means those racial and ethnic populations that are underrepresented in the medical profession relative to their numbers in the general population." The majority of Stony Brook's applicants are residents of New York, however, out-of-state applicants are encouraged to apply. There is no discrimination in the admissions process on the basis of race, color, sex, age, ethnicity, religion, national origin, sexual orientation, disability, marital status, or veterans' status.

The School of Medicine expects that each student admitted will complete the full curriculum of required courses and electives under the established School policies. Academic requirements for each year of medical school are available on the Office of Medical Education Webpages. Grades, MCAT scores, letters of evaluation, and extracurricular and work experiences are carefully examined. The candidate's motivation and personal qualifications, as indicated in the application, letters of evaluation, and a personal interview, also contribute greatly to the admissions assessment.*

Prospective students are advised to consult the current edition of Medical School Admission Requirements (MSAR). Ordering information is available at the following website: https://www.aamc.org/students/applying/requirements/msar/  You may also contact their office at:

Association of American Medical Colleges
Publications Department
2450 N Street, NW
Washington, D.C. 20037
Phone - (202) 828-0416
Fax - (202) 828-1123


Since competition for any one school is keen, prospective applicants will profit from reading this book's overview of the medical school admissions process, as well as a description of the educational program of all accredited medical schools in the nation, including Stony Brook.

*The submission of false or misleading information in the application materials or in connection with the application process shall be the grounds for rejection. If such submission is discovered after the rendering of an offer of admission, matriculation in the school, or award of the degree, it shall be grounds for withdrawal of the acceptance offer, for dismissal, or for revocation of degree.

Applications should be submitted early in the application season, which begins on June 1 and closes on December 1. Stony Brook participates in the American Medical College Service (AMCAS). Applications to this service are available only on-line at: http://www.aamc.org/

In addition to the AMCAS application, applicants must submit a Supplementary Stony Brook Application. A letter of evaluation from the applicant's premedical advisor is also required. If no such official exists, letters from two instructors, one of whom is in a science field, should be submitted. No other letters are solicited. However, the Committee on Admissions also welcomes letters from others who may provide important information about the candidate. The deadline for submission of the Supplementary Application and all supporting documentation is December 15, 2015.

For the current application cycle for the entering class of 2016, applicants should send all letters of recommendation directly to AMCAS, which will forward the letters to us electronically. AMCAS will accept letters from users of Virtual Evals, Interfolio, and via the US Postal System. The address to which letters should be mailed will appear on the AMCAS Letter Request Form.

All application material should be submitted as early as possible. Candidates for admission to the 2016 entering class are required to take the MCAT no later than September 23, 2015.

Application Fee...

An application fee of $100 should be forwarded with your completed supplementary application materials. Any request for a fee waiver must be accompanied by a recommendation from the financial aid advisor at your school.

Early Decision Program...

For the 2016 entering class, applications for Early Decision must be submitted to AMCAS by August 1st. All supporting documents and letters of recommendation must be received at Stony Brook by August 31st and MCATs must be taken no later than July 18, 2015. Please note that applicants can only apply to one medical school via an Early Decision Program. All Early Decision applicants will be notified of the decision of the Committee on Admissions by October 1st. Applicants who are not accepted to the Early Decision Program will be considered with the regular applicant pool and may then make applications to other medical schools. Please contact the Admissions office directly if you have further questions.

Interviews...

Personal interviews are an essential part of the admissions process for any applicant in which the school has a serious interest. Invitations for interviews are initiated by the Committee on Admissions. Whenever possible, appointments are scheduled at the convenience of the applicant.

Transfer Students...

Stony Brook University School of Medicine will only consider students who are currently enrolled and in good standing at other LCME (Liasion Committee on Medical Education) United States M.D. granting schools of medicine. Students interested in transfer information should email the Committee on Admissions at somadmissions@stonybrookmedicine.edu.

Background Checks...

Stony Brook University's School of Medicine will require criminal background checks for all accepted medical students. The Association of American Medical Colleges (AAMC) recommends that all U.S. medical schools procure a national background check on all accepted applicants. In support of this recommendation, the AAMC has initiated an AMCAS sponsored national criminal background check service, through which Certiphi Screening, Inc. will procure a national background report on applicants at the point of acceptance. (There is no additional fee associated with a background check.)

All conditionally accepted applicants must consent to, submit to, and successfully complete a criminal background check through Certiphi Screening, Inc. Failure to do so will constitute failure to meet the pre-matriculation requirements established by the School of Medicine and will result in the withdrawal of a conditionally accepted offer.

Acceptances are deemed contingent pending the results of the background check. A positive response on the background check will not automatically preclude admission, and all positive findings will be reviewed by an ad hoc committee who will then make a recommendation to the Admissions Committee.

Accepted applicants are required to notify the Office of Admissions with any changes that may have occurred once the CBC is completed and prior to matriculation.

More information on criminal background checks may be found at the AAMC website: www.aamc.org/students/amcas/faq/background.htm

Deferment Policy...

For the 2016 entering class, an accepted applicant will be granted a deferment of one year to matriculate if a request in writing is made prior to June 1, 2016. Requests after June 1, 2016 will be considered on a case by case basis. Deferment requests for medical reasons will need documentation from the applicant's physician as to the nature of the illness, why the applicant needs a deferment to improve health, and the projected date for recovery and matriculation. Prior to matriculation, the applicant will need a fit for matriculation letter from his/her physician.

Scholars for Medicine Program...

The Scholars for Medicine Program (http://www.stonybrook.edu/ugadmissions/programs/sfmed.shtml) is an integrated eight year Bachelors/M.D. course of study offered to exceptional high school students. While completing undergraduate studies, students participate in medical school classes and activities. Students must maintain a minimum specified GPA during the first three undergraduate years. All scholars are required to take the MCAT no later than spring of their junior year in college and must attain a specified minimum MCAT score.

Scholars for Medicine positions are available to select entering freshmen who have been accepted to the WISE (Women in Science and Engineering) Program (http://www.wise.sunysb.edu/),the Honors College http://www.stonybrook.edu/uaa/honorscollege/) or Engineering Program. http://www.stonybrook.edu/ugadmissions/newhonors/engsfmed.shtml
Directions to the School of Medicine Admissions Office ...
DIRECTIONS TO THE OFFICE OF ADMISSIONS - SCHOOL OF MEDICINE
STONY BROOK UNIVERSITY - HEALTH SCIENCES - LEVEL 4, ROOM 147A
(AT BASE OF ESCALATOR) - 631.444.2113
(PLEASE NOTE THAT STONY BROOK UNIVERSITY MEDICAL CENTER IS PART OF THE HEALTH SCIENCES )
CAR: From New York City, take the Long Island Expressway (495) Eastbound to Exit 62 which is Nicolls Road (97N). Follow signs North to Stony Brook. Continue on Nicolls Road for approximately 9 miles until you see signs on right indicating Stony Brook University Medical Center. Make a right at that light and follow Health Sciences Drive. You will see signs directing you to Hospital Visitor Parking. Go left to Main Entrance of Medical Center. Parking garage is adjacent to the Main Entrance. Parking fee is $10.00 per day, or $2.00 per hour. When you enter the Medical Center, you will be on the 5th level. Proceed to escalators for the Health Sciences, take one flight down to 4th level. DO NOT TAKE ELEVATORS.
Alternate Route: Take Northern State Parkway until the end, then continue on Rt. 347 (Nesconset Highway) following signs to Pt. Jefferson (stay on left side of Rt. 347). Travel approximately eight miles until you see signs indicating Stony Brook University. Turn left onto Nicolls Road (97N) and continue about two miles. Make a right when you see signs for Stony Brook University Medical Center and follow Health Sciences Drive until signs direct you to the Medical Center Visitor's Parking. (See above for directions to Admissions Office.)
TRAIN: Please consult Long Island Railroad Information ( 718-217-LIRR, 631-231-LIRR or 516-822-5477) for the most convenient schedule from your home to the station at Stony Brook. You should be aware that passengers may change trains at either Jamaica or Huntington to reach the Stony Brook station - please check with RR conductor. The L.I.R.R. terminal is located in Penn Station in New York City and service to Stony Brook is on the Pt. Jefferson branch of the L.I.R.R. (Please allow a minimum of 2.5 hrs. for train travel.) PLEASE CHECK THE WEBSITE AT: http://mta.info/lirr/
When you reach Stony Brook Station, a campus bus stop is located across the RR tracks which makes pickups approximately every 30 minutes and will take you to the Health Sciences. TAKE OUTER LOOP BUS (There is no charge for this service.) Proceed up the ramp to the Health Sciences and enter through the doorway on the right - you will be on the 2nd level. Take the escalators up to the 4th level - Admissions Office is Room 147A. If you need to take an elevator, please do not take the elevators when you first walk into The Health Sciences. Proceed straight ahead and The Health Sciences elevators are located past the escalators. (Taxi service is also available at the train station - charge is between $8.00-$10.00. If you use a taxi, please have them drop you off in front of the University Medical Center and follow directions to the Admissions Office in the first paragraph.)
PLANES: Service is through Kennedy International and LaGuardia Airports, 50 miles west of Stony Brook. Several airlines also provide direct service to Long Island's MacArthur Airport, 10 miles south of the campus. Airport limousine and taxi services are available 24 hours a ' day to and from each of the three airports - Spartan Limousine service (to and from Kennedy, LaGuardia or Islip Airports) call 631-928-5454; or Colonial Taxi (to and from Islip MacArthur Airport) call 631-589-7878. Lindy's cab is 631-473-0707. Please have these taxis drop you off in front of the University Medical Center and follow directions to the Admissions Office in paragraph one.
FERRIES: The Bridgeport and Pt. Jefferson Ferry Co. provides year-round service from Bridgeport, Connecticut to Pt. Jefferson, L.I. Sailing time is about 90 minutes. For further information, call 631-473-0286. The Cross Sound Ferry Service, Inc. provides year-round service on the Orient Point/New London Ferry. Sailing time is about 90 minutes. For further information, call 631-323-2525.
Financial Information...
Tuition for the 2016 entering class at the four State University of New York Medical Schools is $38,250 per academic year for New York State residents and $63,260 per academic year for out of state residents, and is subject to change and approval by the SUNY Board of Trustees. Miscellaneous fees are approximately $3,150 per academic year which include health insurance and equipment and lab fees. The cost of supplies, equipment and books is approximately $2,200 for the first year. If you need to purchase a computer, an additional $2,500 may be added to your costs. Expenses for succeeding years are correspondingly lower. Incurred expenses (room, board, travel, etc.) are estimated at $25,010 per year.
Tuition at Stony Brook University is considerably less than the cost of attending a private institution. Financial aid is available to students with documented need. In addition, loans and other funds administered by the school are allocated to all students (regardless of residence) whose financial status warrants the allotment of available support. Admission to the school is determined by the candidate's qualifications and not by the ability to be self-supporting. Once admitted, students may apply for aid. The amount each applicant receives will represent a fair apportionment of aid resources available among the continuing and newly admitted students in the school.
State Residency...
Stony Brook University School of Medicine is state supported. As such, tuition determination is dependent upon sufficient documentation of New York State residency. If your principal or permanent home has not been in New York State for a 12 month period immediately prior to the date you intend to enroll, you will be considered an out of state student for tuition purposes. For additional clarification on this matter, please go to: http://ws.cc.sunysb.edu/bursar/residency
Housing...
During the first two years, when much of the instruction takes place at Stony Brook, most students choose to live on campus or in nearby communities. Stony Brook is largely comprised of single family homes which students often share. Access to an automobile may be an important consideration, especially while pursuing clinical clerkships at geographically dispersed sites. Public transportation in the area is limited.
Correspondence...
All applications are acknowledged and applicants are informed when their application file is complete. It is not possible, however, to acknowledge receipt of the many items of supportive documentation as they arrive. When a final decision is reached, the applicant will receive an announcement of that decision. If accepted, a $100 deposit fee is required to hold a place in the class. This fee is applied to tuition and is refundable until April 30, 2015. All correspondence pertaining to an application should reference the candidate's proposed year of entry. Correspondence should be addressed to:
Committee on Admissions
School of Medicine
Health Sciences Tower, Level 4, Room 147A
Stony Brook University
Stony Brook, NY 11794-8434

Telephone: 631.444.2113/ Fax: 631.444.6032
email: somadmissions@stonybrookmedicine.edu
Stony Brook University is an affirmative action/equal opportunity educator and employer. If you require a disability-related accommodation, please contact the School of Medicine at 631.444.2113. Also, this publication can be made available in alternative format.
Who's Who in the School of Medicine Admissions Office
Jack Fuhrer, M.D.
Associate Dean for Admissions
Associate Professor of Medicine
Clinical Director of the AIDS Center
As Associate Dean for Admissions for the School of Medicine, Dr. Fuhrer serves as an academic leader for the Committee on Admissions and is responsible for student recruitment and admissions.
Grace Agnetti, MS.Ed.
Assistant Dean for Admissions
She is the principal source of advising for those applicants who were unsuccessful in gaining admission into Stony Brook Univ. School of Medicine.
Dr. Fuhrer and Ms. Agnetti can be contacted at:
School of Medicine
Office of Admissions
Health Sciences Tower, L4 - Room 147A
Stony Brook University
Stony Brook, NY 11794-8434
Tel: 631.444.2113
Fax: 631.444.6032
e-mail: somadmissions@stonybrookmedicine.edu