Congratulations! As a Course Director, you have assumed responsibilities central to the educational mission of the school. The information below is designed to make your job easier by anticipating and answering some frequently asked questions and pointing you toward useful resources. It is essential reading for Course Directors and may be useful for your students and instructors as well. It should be read in conjunction with the official Policies and Procedures Manual of the School found on the web. There should be no inconsistencies between the information in this Course Directors Handbook and in the Policies and Procedures. If there are, please let us know. The Policies take precedence. If you don't find what you need to know, please get in touch with Dr. Chandran or Caroline Lazzaruolo in the Office of Undergraduate Medical Education (UGME) (4-1030).

The Curriculum Committee (a committee of the Faculty Senate) is chaired by Kenneth Kaushansky, MD, and meets on the first Monday of each month. It has primary responsibility for designing and evaluating our curriculum. The Curriculum Committee has five important subcommittees: 1st and 2nd Year Course Directors (Roger Cameron, Chair), Clinical Course Directors (Susan Lane, Chair), the Competency Committee (Mary Kritzer & Latha Chandran, Co-Chairs), the Systems Course Director Committee (Paul Richman, Chair), and the Outcomes & Assessment (Sidonie Morrison, Chair). You should plan to attend your Course Director's committee. The Dean has delegated his authority over educational matters related to students to the Office of Undergraduate Medical Education led by Dr. Latha Chandran, who is responsible for administering the educational program. The Office of the Dean and the Course Directors also are key players in curricular planning. Course Directors carry the primary responsibility for teaching and evaluating students.

How did you become a Course Director?

At the recommendation of the Curriculum Committee, the Dean of the School of Medicine appoints Course Directors, usually for three years with renewable terms. Vice Dean Chandran should have sent you a letter of appointment with a copy to your chair and Caroline Lazzaruolo in the Office of Undergraduate Medical Education. This letter triggers a very important event: Ms. Lazzaruolo adds you as a Course Director in CBase, our web-based curriculum management program, and sends you your username and password. Bookmark the URL for CBase.

Your responsibilities for CBase are detailed below. CBase is the essential locus of your course schedule, syllabus, course and teacher evaluations, student records, and links to all course materials. The UGME office will give you and your administrator, if you have one, as much hands-on training as you need.

On November 7, 2011, the Curriculum Committee passed this proposal for how course directors are selected:

As described in the SOM Policy and Procedures, the policy that relates to appointment as course director involves selection of an individual by the Departmental Chair, review by the Curriculum Committee, and approval by the Dean of the SOM. In an attempt to maintain the high quality of our courses and comply with LCME guidelines related to curricular management (ED 33), the purpose of this proposal is to provide further refinement regarding the selection of course directors, wherein it is proposed:
The Department Chair's recommendation to appoint a new course director should be made at least four months prior to the start date of the course, unless extenuating circumstances dictate otherwise.
Included with the selection will be a proposal addressing the following information: a) the nominee's teaching credentials, b) the plan to prepare the new course director for the upcoming course (a transition period adequate for the new course director to become familiar with the course content and to participate in faculty development as needed); c) the allocated time and resources required for the position, and d) an outline for opportunities for academic advancement.
The appropriate subcommittee (1st and 2nd Year Course Directors Committee for courses in years 1 and 2 and the Clinical Course Directors Committee for courses in years 3 and 4) will review the proposal and report its findings to the Curriculum Committee. If there are concerns raised in the subcommittee's review, these will be brought to the attention of the Department Chair and the Dean of the SOM.
To ensure ongoing quality control of the SOM curriculum, the respective course or clerkship will undergo an abbreviated review (including evaluation of student feedback and direct observation by the site review team) after the first year by the Committee of Course Reviewers, the results of which will be presented to the Department Chair and Dean of the SOM.
What does our curriculum look like?
The Mission of the Stony Brook School of Medicine is broad and the curriculum is designed to meet it. The first two years of medical school are comprised primarily of a set of required basic science courses. The elements are represented in schematics of the first, the second, the third and the fourth years. In the last two years, students must take ten clerkships (Ambulatory Care, Medicine, Family Medicine, Ob/Gyn, Pediatrics, Psychiatry, Surgery, Neurology, Emergency Medicine and Radiology), a 4 week sub-internship (medicine, pediatrics, or surgery), 4 weeks studying surgical sub-specialties, 4 weeks of a didactic course (laboratory medicine, surgical anatomy, clinical therapeutics, or emergency medicine), two weeks of Psychiatry in Medicine, and they must satisfy a requirement in Medicine in Contemporary Society. Currently, they must also complete 16 weeks of elective work.
What are our overall objectives in the Stony Brook SoM curriculum?
The stated mission of the medical school is to improve the quality of health care to the citizens of New York and the nation, and to demonstrate national leadership in education, research, patient care and community service. Stony Brook University School of Medicine articulates its values as ICARE: Integrity, Compassion, Accountability, Respect and Excellence. We expect teaching and learning to occur in a collaborative and nurturing environment aligned with the stated values of the school.
A. Educational Goals
The competent physician should possess the medical knowledge, judgment, professionalism and clinical and communication skills to provide high quality patient care. The Stony Brook School of Medicine aims to achieve excellence in the preparation of students for careers in medical practice or research and to foster their continuous professional growth. The goals of the educational programs are to provide broad knowledge and skills in the life sciences and clinical sciences, nurture appropriate professional behavior and attitudes, and emphasize commitment to continued learning. Similar goals apply to the education and training of resident physicians. The Educational Mission and Competencies for our medical school are found on the web. Specific course objectives must be related to the sub-competencies, which are our institutional objectives.
B.
The School of Medicine conducts active research programs in the basic and applied medical sciences. Research activities are an integral component of the medical school mission since they are essential to achieve our educational goal and to advance medical knowledge.
Facilitate the development of vigorous programs in basic and clinical research by providing recognition and support for research activities of faculty and students;
Conduct strong graduate and post-graduate research training programs;
Teach research methodology and provide opportunities for furthering such knowledge to enable students to develop a scientific approach to clinical medicine and attain an appropriate level of knowledge to critically evaluate medical research publications.
C. The provision of high quality medical care is inherent to the School of Medicine's educational role. The School has the mission of addressing the health and educational needs of the community at the local, national and international levels. To fulfill this mission the School will:
Provide comprehensive patient care services that are responsive to community health problems and provide leadership to address these problems;
Conduct public education and other programs to meet community health needs;
Serve the educational needs of health professionals in the community by conducting medical and other continuing education programs;
Participate in local, national and international activities to promote medical teaching, research and service;
The mission and original list of objectives for the School of Medicine were adopted in 1970 when the school admitted its first class. They have been revised periodically since, at approximately five year intervals. The list above was specified in 1996 and formally modified in 2004. Our current competencies can be viewed at /som/faculty/educationalcompetencies.
This year, 2011, the school began its next round of competency and educational objectives revisions. These revisions will be implemented in the 2012-13 academic year.
Teaching is the obligation of everyone with a faculty appointment and an explicit part of the Hippocratic Oath. Moreover, it is an honor for all at an academic institution and can be one of the most personally and professionally gratifying roles we perform. The use of the student-faculty or student-supervisor relationship to seek or maintain a personal relationship is an abuse of power and is specifically prohibited by campus policies P105 Equal Opportunity / Affirmative Action and P106 Sexual Harassment.
Expect excellence from yourself, your colleagues and your students. Setting high standards encourages better performance.
You have been given primary responsibility for running a course, but you are
Familiarize yourself with and make use of the local electronic resources provided for you: CBase, EZexam, the UGME Web pages, the academic calendars, and this handbook. Learn what other professionals who teach parallel courses do at other medical schools, by looking on the Web, and what we do here, by participating in our faculty development meetings, periodic retreats and symposia, and monthly Course Director Committee meetings.
Read the Policies and Procedures of the School of Medicine. Knowledge of the policies will make you a resource for the students and will help you avoid spreading or relying on incorrect information.
Deadlines are set as a result of past experience and proactive planning. Adhering to deadlines serves as a model of professionalism and manifests respect for your colleagues and your students.
Candor in evaluation is critical to growth and change. Feedback to and from colleagues and students should be a regular part of your course, not just an exercise that occurs when the course is over. When you evaluate anyone - school administrators, your colleagues, your students - address specific behaviors and offer ideas for improvement. Encourage others to give you feedback and model constructive responses to it. Course Directors of each required course ( four weeks or more) should offer a mid-course formative feedback session to students. During this session, course directors are encouraged to review student progress, including in clinical rotations, Clinical Skills and Clinical Conditions, and offer other relevant, helpful feedback. This gives the student an opportunity to improve before the end of the rotation when summative feedback will be given. Summary narratives should be provided, at a minimum, at the end of all clinical courses. Clinical Skills and Clinical Conditions can be seen in CBase.
In any formal teaching activity, including lectures, seminars, and laboratory instruction, an instructor must disclose to learners any financial relationship(s) with a provider of commercial products or services relevant to the educational presentation. A detailed description of the Conflicts of Interest policy can be found on the website: http://medicine-d.stonybrookmedicine.edu/somfaculty/educationalcompetencies
Here is an excerpt from it, pertaining to the education mission of the school

In any formal teaching activity, including lectures, seminars, and laboratory instruction, an instructor must disclose to learners any financial relationship(s) with a provider of commercial products or services relevant to the educational presentation. The disclosure should include the following information:

The name of the individual(s) with a relationship with commercial entities, i.e. self or immediate family member;
The name of the provider of commercial products or services;
The nature of the relationship each person has with each commercial interest.



For an individual with no relevant financial relationship(s), the learners must be informed that no relevant financial relationship(s) exist.

An instructor must disclose the above information to learners prior to the beginning of the educational activity. That disclosure may be accomplished by entering the appropriate information on the School of Medicine COI website. Learners will be presumed to be familiar with information on the website.

An instructor teaching in an organized course or program must inform the course or program director of any financial relationships with a provider of commercial products or services relevant to the educational presentation. If the instructor is the course or program director, the instructor's immediate supervisor should be informed.

The SOM has a zero tolerance policy for student mistreatment. The following website details the clarification of such mistreatment and the various reporting mechanisms available to the students.

/sompolicies

Faculty are also bond by the disruptive provider policy of SBUH.
/system/files/disruptive%20final.pdf
Planning a Course
Scheduling and the Academic Calendars
The number of hours allocated to each course by the Curriculum Committee, in consultation with the Course Directors and Dean's Office, determines its place in the academic calendar. The UGME Office maintains and controls the official academic calendar for each academic year as well as the calendar for all non-academic events for the School of Medicine. These five calendars are available on the Web. Please bookmark this link. Your knowledge and use of these calendars is important for several reasons. Coordinating activities is essential to avoid conflicts between courses and other school events. Moreover, our policies stipulate that, except in extraordinary circumstances, any required course activity must appear in the appropriate calendar at least 6 weeks before the event or beginning of the course in which it is required. The inclusion of any mandatory activities in this calendar is designed to minimize conflicts between courses and to help students organize their lives. You may be surprised how many trips, weddings, family reunions and even births are planned by students months ahead of time on the basis of the information in the calendar.
Scheduling didactic courses: The preliminary calendar for the next academic year is completed by the UGME Office in early winter and available to each Course Director. It is usually based on the calendar of the prior year with adjustments as required by the Curriculum Committee, changing holiday dates and other contingencies. The Dean's Office will try to accommodate your request to the extent possible and, if there are conflicts, help broker resolutions with other Course Directors. Course Directors share common problems and have a history of working collaboratively to resolve scheduling conflicts.
Scheduling Labs/Rooms: Time and assistance in the Multidisciplinary Labs (MDL) are not organized through the UGME office but with the assistance of Salema Mahajan (salema.mahajan@stonybrook.edu) (444-9715). If you have labs in your course, it is imperative that you arrange the timing with her well ahead of time. It is easy to forget that first and second year courses both require laboratory time, so looking at the calendar only for your year will not assure that the Multidisciplinary Labs are available to you. Call Salema Mahajan to make arrangements before you plan a lab in your syllabus. Room change requests, OTHER THAN LABS, should be directed to Caroline Lazzaruolo or Dianne Tokar at 444-9547.
Once final (official calendar is set in early winter), changes become much more difficult because other courses, School of Medicine organizations, other HSC schools, UH, clinical departments, and main campus constituencies quickly fill the available gaps. Failure to plan well ahead has traditionally hindered, if not precluded, changes.
Finally, we all know that not everything is predictable. Your visiting lecturer may cancel or be trapped in the OR or in Chicago. If there are unanticipated changes in scheduling you must notify the UGME office - Caroline Lazzaruolo and Vice Dean Chandran- as well as the students. The UGME office will help rearrange the event.
Scheduling Clinical Courses: Third year courses run from two to eight weeks, depending on the course. The schematic of the third year calendar indicates the start and end date for each clerkship as well as the periods in which students may take electives. Student schedules and sites are determined during registration in winter of the second year. Students are given state holidays off as well as time during the end-of-year holidays.
The fourth year courses are scheduled in two or four week blocks as indicated in the course calendar. Electives start any Monday of the academic year. In December, course directors notify the UGME office of the start and end dates of electives for the next academic year. There are no regular breaks in the calendar for the 4th year students. Students are required to complete 36 weeks of study in their fourth year.
For details about required course work, please refer to the description of the curriculum provided on the Admissions website.
In December, the clinical Course Directors provide the UGME office with a list of the numbers of spots and the sites where their rotations will be offered. Third and fourth year registration is determined on the basis of the information that is provided by the Course Directors. During this time, clinical and elective Course Directors (or their designees) are also expected to update their course descriptions in CBase so that the course descriptions are ready for the students to see on the Web prior to the registration period. Meeting deadlines for submitting information is crucial since registration cannot occur until accurate information is available. The dean's office announces the deadlines at committee meetings and via email.
The first responsibility of a Course Director is organizing the structure and content of your course. A complete and accurate Course Syllabus is the key to students understanding the goals of your course, your expectations of them and what they can expect of you. Each course MUST have a syllabus. Here are some essential elements:
I. A course title
A list of course objectives
List your objectives for the course DO at the end of the course. They are indispensable in curricular design. Objectives drive course content, determine the appropriate teaching techniques and control modes of evaluation.
Objectives are traditionally classified by their focus on knowledge, skills, and student attitudes, but all are expressed in terms of behavioral objectives. For example, "The students will do such and such to demonstrate their knowledge, skills or attitudes." Substantial literature on the language of objectives and how to write them can be obtained in the UGME office.
III. A statement of prerequisites, if any.
IV. A general description of the course with course requirements.
Required texts, web sites, and other materials.
Ideally students should have access to materials used by faculty ‑ PowerPoint presentations, lecture notes, slides, etc. -
Required class activities - seminars, labs, clinical activities, lectures, etc.
Unless approved by the UGME office, any required activity must be posted in the official calendar at least
V. Class-by-class course calendar specifications:
Whether the activity is
A specification of any
If your course is offered at more than one site, please enter all site information into the database. This information should include,
The name of the site.
The name of the site director.
Contact information for the site director (phone, beeper, email, address).
Directions to the site by car, by train.
Any specific orientation instructions for the specific sites.
VI. A specification of grading policy.
Indicate the grade designations to be given (the default is Honors, High Pass, Pass, Low Pass, Fail) and how grades will be determined. Indicate the process for appealing a grade or asking for reconsideration. Refer to the appeal process described in the Academic Policies and Procedure manual. See also the discussion of Grades and Evaluation below.
VII. Miscellaneous:
a. Your requirements regarding course material (e.g. no downloading of exam questions; no distribution of digital images; etc.) Students are bound by their Honor Code to respect your rules, but they must be specified, not "presumed."
b. A list of course faculty and their contact information.
c. Include the following statement:
If you have a physical, psychological, medical or learning disability that may affect your course work, please contact Dean Aldustus Jordan. Once you are tested by the Psychological Testing Center, the Disability Support Services office can determine with you what accommodations are necessary and appropriate (631) 632-6748. All information and documentation is confidential. Students who have been cleared for accommodations must self-identify to their professors before the beginning of the course. Students requiring emergency evacuation are encouraged to discuss their needs with their professors and Disability Support Services.
d. Finally you are responsible for placing your course syllabus on CBase (see discussion below), though you may also distribute a paper or an electronic version. The costs of duplicating paper versions of course materials will not be covered by UGME. If you wish to distribute a printed syllabus, be advised that it is at your own expense. If you need help creating or duplicating an electronic syllabus, please contact Informatics for assistance. Your course, including your syllabus, will be reviewed comprehensively every three to four years by the Curriculum Committee.
Administering a course
Once the academic calendar is set, the UGME office forwards it to Caroline Lazzaruolo, our Registrar and the Medical School liaison with Media Services. Media Services will assign classrooms for the first and second year courses as well as for the fourth year didactic courses. You can see the room assignments online. Courses are generally listed by course number, which you can find in CBase or from Caroline Lazzaruolo (8-2005 - caroline.lazzaruolo@stonybrookmedicine.edu).

When you need to schedule space for an academic activity outside of the regular course calendar, you must do so through one of the Dean's offices. Please see the following individuals for the following functions:
Please remember that many schools share our educational facility and compete for classroom space and that there are deadlines for securing space. Please contact Caroline Lazzaruolo (4-9547) directly and not the Media Services office when you request a room.
Purchasing, preparing and using course materials
The UGME office asks each Course Director in the spring to submit a budget for course related expenses that are covered by the Dean. Allowable expenses include but are not limited to: distributing your syllabus on disk (it must also be on the web), purchasing software for your course, media services, laboratory supplies and other course related materials. Students, departments and the dean's office share a desire to shift costs to someone - anyone - else and, though there is no algorithm, there are some practices that control who pays for what. Supplies and equipment not primarily for course use are left to departments to buy. The costs of ordinary course materials (texts, etc.) fall on students. Annual, recurring course expenses are paid by the UGME office. Some special rules:
Computers, office furniture, or a photocopy machine are departmental expenses.
Big ticket, course related items - cadaver tables are a good example - are negotiated. Medical Education will likely buy many, but needs some lead-time!
Before Medical Education will buy a computer program, it must be evaluated by Medical Informatics (Moises Eisenberg).
We are all becoming much more dependent on electronic media and IT in the classroom. Media Services (Kathleen Gebhart) and Medical Informatics (Moises Eisenberg) are the administrative units to help with each. Media Services provides equipment and expertise for AV classroom equipment and a number of other services listed in their website. These services are billed, but course-related services come out of your course budget and are paid directly by the UGME office. Medical Informatics supports CBase, EZexam, and other important programs. MI is available to assist with all computer-based instruction and provides a number of other services, which are listed in their website.

Below is a list of the responsibilities of Course Directors. Most staff support for Course Directors comes from departments, but the UGME office has staff members whose job it is to help make your life as a Course Director easier by assisting in course administration.
RESPONSIBILITIES OF A COURSE DIRECTOR
Read this document thoroughly!
Write the overall course objectives, description, grading policy, make-up policy and penalties. Enter these into CBase as described in the Handbook.
Sequence the outline of the course.
Enlist faculty and assign their teaching responsibilities. Ensure that all learning experiences are supervised by a faculty member in the school of medicine.
Be familiar with the School of Medicine Conflict of Interest Policy.
Prepare a course budget in consultation with Caroline Lazzaruolo in the Office of Undergraduate Medical Education. (caroline.lazzaruolo@stonybrook.edu or 638-2005)
Select the textbook and inform Caroline Lazzaruolo in the Office of Undergraduate Medical Education.
Check the calendar and submit to Caroline Lazzaruolo (444-9547) the requirements for rooms and other facilities (AV, labs etc). Be aware of holidays in planning mandatory sessions.
Ensure that the teaching faculty submits the following items in a timely fashion.
A worksheet may be useful for this purpose. Set deadlines for completing each item:

Lesson objectives
Reading assignments (with approx page limits)
Class presentation materials (lecture slides, case presentations, etc)
Special instructional needs (labs, overheads, etc)
Quiz and exam questions.

Compile the syllabus and review it for consistency and organization
Remind the faculty to be cognizant of the following in planning the content of their discussions:

Presentations by other teaching faculty whose content may overlap with their own, both within the course and in related courses (first or second year)
How lesson topics integrate or might integrate with other classes or courses
Opportunities for additional integrative sessions
The students' medical knowledge foundation at the time of their presentation

Review faculty presentation materials in advance:

Meet with them to critique the plan and presentation.
Check that other faculty members participating in the lesson know the lesson-plan in advance of the session (e.g. small group leaders).
Encourage the use of techniques in class that allow student participation

Assist in planning the content of other courses running concurrently with their own
Attend as many lessons as possible
Respond promptly to correspondence from the student course reps before, during and after the course.
Compile the final exam. Ask the faculty to take the exam before it is administered.
Review the results of quizzes and final exams to assess the validity of questions. Discard invalid questions. Calculate the raw scores as appropriate.
Provide to the Dean's office the quiz and exam results in a timely fashion, with the standards for judging grades. Report any failures of courses or Systems Segments to Mary Jean Allen in the UGME office. Enter partial and final grades to CBase as appropriate
Review the results of your assignments and exams to improve next year's product.
Review the performance of faculty at the end of the course and provide feedback to participating faculty.
Attend the appropriate Course Directors meeting.
RESPONSIBILITIES OF THE DEAN'S OFFICE
Provide educational sessions for faculty to enhance teaching skills.
Arrange room assignments and the provision of media and lab services. This will require coordinating the efforts of UGME (Caroline Lazzaruolo), labs (Salema Mahajan), Media Services (Kathleen Gebhart) and the AV office (Eugene Hellin).
If asked by the Course Director, enter into CBase the lesson objectives, reading assignment, instructor names, competencies, mandatory designation, syllabus materials, etc.
Scan or download course materials and put them in CBase. If asked, duplicate electronic materials for the students and distribute them.
Divide students into sections and small groups. Assign sections and small groups to rooms and notify the students of these assignments.
Manage the students' interface with the Audience Response System, and inform them of its function in the course. Use the "cps" records to track and compile attendance records.
Periodically remind students to complete course and faculty evaluations.
Students with significant academic difficulties may receive tutoring from select upper classmen.
Administrative help and student assistants
The UGME office has administrative help for Course Directors to supplement departmental support. Moreover, some courses have student assistants assigned to help with course administration, tutoring and grading. Student assistants are arranged through the UGME office.
CBase ‑ Curriculum Online Database
CBase allows you to manage your course, allows students to input course related data, and allows us all to keep student records. Each Course Director's ID and password permits unique access to manage his or her course, including the following elements: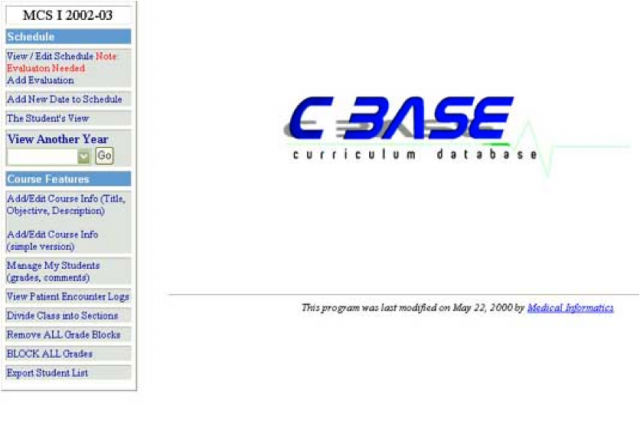 To describe your course, its schedule and components.
To set up discussion sections within the course.
To add and update links to course related web pages.
To enter all grades and comments for your course.
To refine course and faculty evaluations. There is a set of questions asked about every course and faculty member. You may add/edit optional questions to the evaluations.
To download a list of all students registered to take your course.
To "see" individual students - pictures, schedules, contact information ‑ email addresses, phone numbers, mailing addresses.
To access information, e.g. Clinical Skills and Conditions, that your students have entered into CBase from the student "side" in satisfaction of course requirements.
To write comments about students, both for the student's public record and for the "Early Warning System" regarding a special insight or concern about a particular student. Keep in mind that these latter comments are accessible to students who request them.
To see a list of all Course Directors with their contact information
Caroline Lazzaruolo will send you your username and password when you are appointed a Course Director. If you lose it, please contact Ms. Lazzaruolo at 638-2005.
CBase course rosters are up-to-date and show students who are registered for your course (see "Manage my Students"). . If you have any questions about whether a student will appear on the first day of class, please contact Caroline Lazzaruolo, Registrar, at 638-2005.
Grading and Evaluation
Reporting grades and evaluative comments
Course Directors are responsible for evaluating students and assigning grades. The official grades are H, HP, P, LP, F, I, W, Z and PO. (Incomplete, Withdraw, Z and Place Out are described in the Policies and Procedures). In courses long enough and structured to make it meaningful, students should be evaluated during the course (formative evaluation) and at the end (summative evaluation). The former is intended to inform a student of his or her weaknesses while there is still an opportunity to improve. In clinical clerkships and fourth year clinical rotations, course and site directors must meet with students to provide such mid-course feedback including reviewing clinical skills and clinical conditions if the course is 4 weeks or longer. The summative or final evaluation indicates the student's overall performance in a completed course. The final evaluation is entered in the student's permanent record in CBase. Please refer to the Policies & Procedures manual for a more detailed discussion of grading policy. Note that examinations of the objective multiple-choice type are automatically graded. You may review dropped questions (in "home-grown" exams). The Course Director is responsible for assigning course grades in accordance with policies described in the course syllabus. Please be sure that your course policies are in line with our official School Policies and Procedures. If an exercise is mandatory, please be sure to include a way to make up the exercise if it is missed and/or consequences for missing an exercise.
Once the Course Director determines final grades, s/he/designee must enter the grades comments into CBase. In the first two years, grades must be entered within two weeks of course completion. Clinical course grades are due within 4 weeks of the end of the rotation. Comments are due within six weeks of the end of the rotation. CBase provides a drop down list of grades from which to choose. Honors, Pass, Incomplete (for extenuating circumstances), "Z" (for failing an NBME exam) and Fail appear on the transcript although High Pass and Low Pass may also be included in the Medical Student Performance Evaluation ("Dean's Letter").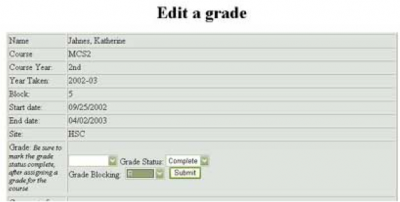 Course Directors can enter evaluative comments into CBase to accompany the grades. There are three areas in which comments may be written: comments for the record and confidential comments, including "Early Warning System" to alert the Vice Dean of unprofessional or unusual behaviors that need to be addressed or tracked, and an "Academic Alert" for the student who is having academic difficulty. The student can access these confidential comments, but they do not form part of the student's public record. "Comments for the Record" will automatically be downloaded to the Medical Student Performance Evaluation ("Dean's Letter) sent to residency programs.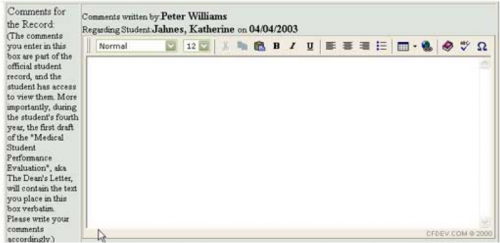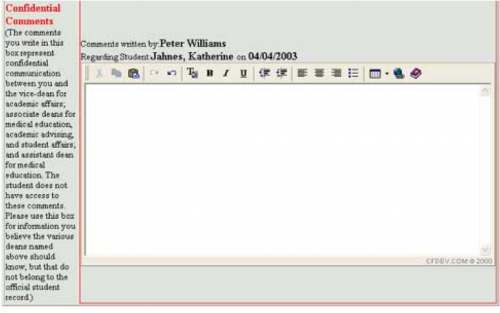 Grade / Comment Reconsideration

At the completion of each course and clinical rotation, it is the responsibility of course directors to make grades and evaluation reports available on CBase as soon as possible. Students will be notified by e-mail when grades are entered into or changed in CBase. Students are responsible for checking their own grades and completing the course evaluations necessary to gain access to them.

A student who has a question regarding a course grade or evaluation should request reconsideration by the course director or use the appeal process, if any, described in the course syllabus. If the problem remains unresolved, the student may appeal in writing to the chair of the appropriate department who must respond within a week of receipt of the appeal. If the issue is not resolved at the department level, either party may appeal the matter to the Dean through the Vice Dean for UGME. The appeal process is also described in the School's Policies and Procedures under "Grade/Comment Reconsideration".

Determining grades: examinations and other evaluative tools

The academic workload expectations of students must be congruent with the educational experience. As a general rule, for every hour of class time, no more than two hours of academic work may be assigned. Course Directors are responsible for determining the tools used to evaluate students - exams (local or standardized), papers, recitations, OSCE's, etc. - and determining their weight. 20% of a course grade must be derived from some form of evaluation other than multiple-choice questions. Using attendance alone as a criterion for grading is discouraged. Course Directors may pick student assistants to help grade written assignments -- essays or short answer or homework assignments. Payment for Student Assistants can be arranged through Dr. Aldustus Jordan's Office.

Unless an exception is granted by UGME, all

Students who wish to take make up exams must contact Neill Clenaghan in Informatics. He will check with the UGME office regarding the student's eligibility for an exam, as well as the chosen date for the exam. The UGME office posts exam dates on the academic calendar and arranges for proctors when requested by the course director. Make-up exam dates are also posted in the Official School Calendar. If you have questions, please contact Caroline Lazzaruolo at 638-2005. The rules above for other examinations apply here as well, e.g. all written exams are to be administered using EZexam or an NBME subject or customized exam, but the nature of the exam is determined by the course director. Grades from make-up exams do not supplant the earlier exam or course failure but are added separately to CBase Failures of NBME exams in the clinical years are reflected by a "Z" grade on the official transcript.

National Board of Medical Examiners (NBME) Exams

NBME subject exams or NBME customized exams are required in some basic science courses: anatomy, pathology, biochemistry, physiology, microbiology, neurosciences, and pharmacology, as well as for Systems Segments. The UGME office orders the exams for these courses, provides proctors, and processes the return of the exams. The UGME office downloads the scores directly from the NBME website. Informatics posts NBME scores to CBase. The Course Director receives subject exam results via an email from the UGME office, can view them in CBase, and can directly access the grades in the NBME web-site for customized exams. Students view their grades in CBase. NBME exams offer a way to evaluate the effectiveness of your course, and they give students some practice on the kinds of questions asked by the NBME, authors of the Step 1, 2, and 3 licensure exams.

Clinical Clerkships in Ambulatory Care, Family Medicine, Medicine, OB/GYN, Pediatrics, Surgery, Neurology and Psychiatry require that students take and pass the NBME subject exams at the 7th percentile level. The UGME office orders the exams at least 4 weeks prior to the exam date. Beginning in the 2011-12 academic year, departmental NBME clerkship exams will be web-based and given in the Library computer classrooms and proctored by departmental designees, along with members of the UGME office. The UGME office receives and distributes the scores. Percentiles will be determined by the most recent chart provided by the NBME with each exam.

When a student fails an NBME exam, the Course Director notifies the student and refers the student to the Associate Dean for student affairs Dr. Aldustus Jordan and the Vice Dean for UGME. The Course Director should also meet with the student to discuss deficiencies and ways to prepare for the retake exam if necessary. The Course Director, the student and UGME office coordinate the time and place of the retake. Students take make–up exams on the official dates that are posted on the School Calendars. Starting in 2011-12, students can take more than one NBME exam on the same day.

Accommodations for students with disabilities

According to our Policies and Procedures, students must alert a Course Director at the start of a course if they require special accommodations for exams or other exercises. Please read the Policies and Procedures regarding compliance with the Americans with Disabilities Act. If you have questions regarding a student's request, please contact Dr. Aldustus Jordan at 444-2340 for additional information regarding accommodation requirements for individual students. If you need help accommodating a student, contact the UGME office at 444-1285. Advanced notice is necessary to find proctors when needed and to reserve rooms when additional exam time is requested. Please make these requests as soon as the student makes his/her request to avoid difficulties with the arrangements.

Academic dishonesty and discipline

It is imperative that Course Directors deal with suspected academic misconduct directly and promptly. Course Directors must report such instances to the Deans and to the Student Honor Code Committee.Though addressing suspected students directly is advisable, do not addressing it. Once reported, the incident will be investigated by the Course Director, by the Deans' Offices and possibly by the student Honor Code Committee. When appropriate, the case will be referred to the Committee on Academic Standing (CAS) for further action.

For assistance in creating a Web page or other online resources for your course, contact Moshe Eisenberg in Informatics (444-3091).

Any time a student is having academic difficulty, the Course Director should contact the Associate Dean for Student Affairs & Academic Advising, Dr. Aldustus Jordan, for immediate follow up. (ajordan@notes.cc.sunysb.edu, 444-2341). Prompt reporting of students with marginal or failing performance of any kind to Dr. Jordan will help immensely. Tutors are available to help students. Some may be assigned to first year courses, but Dr. Jordan has a group of student tutors who can assist students in years two, three and four. Linda DeMotta, (ldemotta@stonybrook.edu) the school's learning specialist, can also assist in finding tutors for students.

Committee meetings relevant for Course Directors

The Curriculum Committee meets on the first Monday of every month at 8AM in the OVP Conference room on Level 4 in the Dean's Suite. Chair: Kenneth Kaushansky, MD, Dean, School of Medicine (Contact Holly Ruttenberg at 444-7207.)

The Clinical Course Directors meet the first Monday of every month at noon in the Dean's Small Conference room on Level 4 in the Dean's Suite. Chair: Susan Lane, MD, susan.lane@stonybrook.edu

The 1st & 2nd Year Course Directors meet the third Thursday of every month at noon in the OVP Conference Room on level 4 in the Dean's Suite. Chair: Roger Cameron PhD. Roger.Cameron@stonybrook,edu (444-7728)

The Systems Course Directors meet once a month. Paul Richman, MD is the Chair and can be reached at paul.richman@stonybrook.edu.

To put your name on the email distribution list to be notified in advance of all meetings, contact Holly Ruttenberg (444-7207), hruttenberg@notes.cc.sunysb.edu
---
Page last updated by Dr. Latha Chandran, on April 20, 2010.