We believe in offering a diverse curriculum that covers the spectrum of Geriatric Medicine through a "continuum of Care." Our one year geriatric clinical experience will offer opportunities to manage elderly patients with a variety of medical problems in a wide array of settings from the acute inpatient hospital setting to the healthy elderly outpatient office visit. Fellows will also have the opportunity to make home visits to an individual's home whether it be an assisted living facility, private home or in the Skilled Nursing Facility. In addition, fellows will be assigned to one of the Nursing Homes where they will follow a panel of patients as their primary care physician. This gives one a full appreciation of the continuum of care so often seen in Geriatric Medicine. At Stony Brook University and Northport VA, fellows provide both primary care and consultation services for the elderly patients in acute, ambulatory, community, and long term care settings in order to better understand the interaction of natural aging and disease on their daily functional state. Fellows will also learn techniques of assessment, therapy and management to improve or prolong your individual patient's functional state.

Goals of the Fellowship
To provide fellows with a well-supervised experience in geriatric medicine, to become highly skilled clinicians and educators in the field of Geriatrics.


To offer fellows the opportunity to develop the requisite teaching and research skills for them to pursue a career in academic medicine.


To acquaint the fellow with Evidence-Based Medicine, to help promote life-long, self-directed learning in the field of Internal Medicine and Geriatrics.
Learning Objectives
Develop their teaching skills through presentations, lectures, teaching rounds and preceptoring as well as educating their patients through outpatient visits and community education programs.


Learn and understand educational principles essential to adult learning through Tutorials sponsored by the Long Islang Geriatric Education Center (LIGEC ).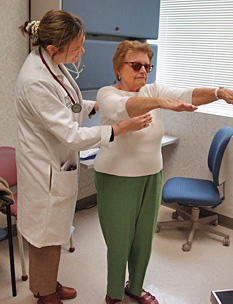 Have opportunities to teach medical students, medical residents and other health care professionals the principles of geriatric medicine in both formal (assigned journal club, noon conference, Interdisciplinary conference, didactic settings) and informal settings(teaching rounds etc)


Become familiar with teaching and learning via Evidence-based Medicine.


Fellows are expected to give formal and informal lectures throughout the year to medical students, Geriatric Faculty and medicine residents. These include but are not limited to:

Team D and VA floors (See curriculum for ideas on topics)
Journal Club (2-3 per year)
LISVH Interdisciplinary Meeting
December Noon conferences at SB and the VA
2 Geriatric Grand Rounds CPC presentations
Community Wellness lecture