Posted by Stony Brook Surgery on November 4, 2011
By Todd K. Rosengart, MD, Chairman of Surgery and Chief of Cardiothoracic Surgery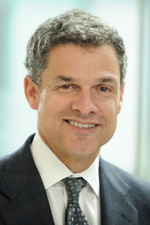 The FDA approval this week of the Edwards SAPIEN aortic valve, which can be passed "over a wire" into the heart without major "open heart" surgery, represents a breathtaking advance in the way heart surgery is performed. Click here to read the FDA's announcement.
Many of us cardiac surgeons were convinced as recently as three or four years ago that the valve would never work. But it does!
It is likely that tens of thousands of patients at increased risk for valve surgery — the indication for which the FDA approved the device — will be candidates for this procedure in the U.S. It is already widely used in Europe, where it was approved several years ago.
The "percutaneous" SAPIEN valve, placed into position to replace narrowed, or "stenotic" aortic valves, will be available for high-risk patients with severe aortic stenosis. There are about 300,000 such individuals in the U.S. alone.
The valve is placed during a procedure called TAVI, the acronym for transcatheter aortic valve implantation. Results in a major U.S. trial of this device, the PARTNER trial, showed about twice as good survival after procedures for high-risk patients with the TAVI approach as compared to standard surgery.
On the other hand, the risk of stroke was about twice as high in the TAVI group than in the group of patients who underwent standard surgery — a result that is expected to improve as experience with the procedure grows and device design improves.
TAVI is here, and joins an increasingly "minimally invasive" environment for open heart surgery.
The present stroke risk is the reason that the FDA is approving the device only for use in treating patients who are at high risk for the standard surgery, which puts relatively greater stress on their bodies.
So, TAVI is not without significant risks despite the fact it allows doctors to avoid major open surgical implantation procedures.
Likewise, there is no "track record" on how long the Sapien device will last once implanted, and this is another reason it will not be available to replace all standard aortic valve replacements.
TAVI joins an increasingly "minimally invasive" environment for open heart surgery, potentially offering patients the several benefits of this approach.
At the Stony Brook Valve Center, for example, most valve operations are now performed through small incisions between the ribs ("mini-thoracotomy") without opening the breastbone as in standard surgery.
As with TAVI, we have found this minimally invasive approach to be safer for our patients than conventional open surgery.
The world of surgery is quickly changing. More to come! … Follow Dr. Rosengart on Twitter!