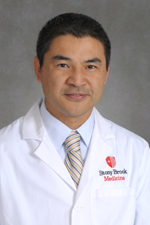 We are very pleased to announce that Jianchang Yang, MD, PhD, in the summer of 2012 joined our faculty as a member of the research team. Dr. Yang, who has a joint appointment in surgery and pathology, will work in our Cardiac Surgery Lab and also the Cancer Center. He comes to Stony Brook from the Nevada Cancer Institute in Las Vegas.
Dr. Yang will contribute to our basic and translational research as we advance our program in cardiac gene therapy.
Dr. Yang's research interests also include the development of novel therapies for myelodysplastic syndromes and acute myeloid leukemia, using new approaches to killing leukemia stem cells; somatic cell reprogramming and the generation of patient-specific pluripotent progenitor cells for clinical therapies; and the development of stem cell therapies for use in transplantation and the management of various blood disorders.
Dr. Yang received his MD from XinJiang University of Medical Sciences (China) in 1993 and his PhD in cardiology from Charité University Medicine Berlin (Germany) — magna cum laude — in 2002.