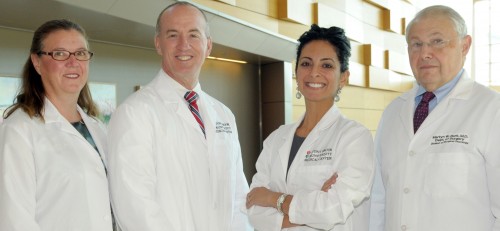 Our multidisciplinary Breast Surgery Service is the first of its kind in Suffolk County. It provides a full range of care for patients with breast cancer and other breast disease, from initial evaluation and prompt diagnosis to complex treatment regimens:
Early detection and diagnosis

Comprehensive management of breast cancer and benign breast disease

Access to national research programs

Surveillance care for high-risk women
Our team approach to breast cancer treatment distinguishes the quality of care we provide at Stony Brook's Carol M. Baldwin Breast Care Center, which in 2012 was granted a full three-year accreditation by the National Accreditation Program for Breast Centers (NAPBC; a new program administered by the American College of Surgeons).
Our state-of-the-art breast center is the first in New York State to gain this quality-assurance designation. A breast center that achieves NAPBC accreditation has demonstrated a firm commitment to offer its patients every significant advantage in their battle against breast disease.
Our weekly Treatment Planning Conference is a multidisciplinary forum where we review potential treatment options for patients with newly diagnosed cancer or patients with recurrent disease. At this conference, their individual cases are presented to a team of highly trained cancer specialists, including radiologists, breast surgeons, pathologists, reconstructive surgeons, radiation oncologists, and medical oncologists.
At the Breast Care Center, state-of-the-art magnetic resonance imaging (MRI), mammography, and ultrasound equipment are used for routine screening and for early detection of breast cancer.
The most modern techniques of surgery, chemotherapy, and radiation oncology are available, as well as rehabilitative and support services, including support groups, designed to assist women who have had treatment for primary cancer of the breast.
See video interview with Dr. Brian J. O'Hea, chief of breast surgery and director of the Carol M. Baldwin Breast Care Center, talking about our service and the achievement of our NAPBC accreditation.
The NAPBC Performance Report Summary says: "The breast specialists at the Carol M. Baldwin Breast Care Center provide all the necessary components for complete, state-of-the-art, and comprehensive breast care. They diagnose and treat benign and malignant disease, and have a well-developed algorithm for patient intake and navigation through the diagnosis and treatment phases of breast cancer care. They offer multiple educational and support services, as well as offer community outreach education and many different types of screening and support programs to satisfy the diverse cultural mix of their patient population."