Professor of Surgery and Vice Chair for Clinical Affairs
Chief, General Surgery Division
Follow Dr. Pryor
Board Certifications
Training
Medical School
Residency Training
General Surgery, Duke University Medical Center
Fellowship Training
Laparoscopic Surgery, Duke University Medical Center
Affiliated Specialty Centers
Clinical Interests/Expertise
Advanced laparoscopic and bariatric surgery

Surgical management of gastroesophageal reflux disease (GERD; acid reflux; heartburn)

Achalasia

Laparoscopic management of colon, stomach, pancreatic, and adrenal disease

Laparoscopic splenectomy

Management of diaphragmatic hernia

Endoscopic and novel therapies for GI disease

Single-site laparoscopic surgery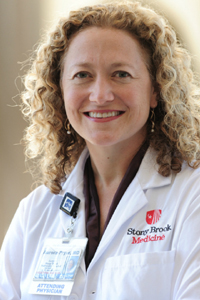 Contact Information
Division of General Surgery
Department of Surgery, Health Sciences Center T18-040
Stony Brook Medicine
Stony Brook, NY 11794-8191
Tel: 631-444-2274 (bariatric surgery)
Tel: 631-444-4545 (general surgery)
Fax: 631-444-6176
Practice Locations
Surgical Care Center
37 Research Way
East Setauket, NY 11733-3465
Tel: 631-444-4545
Fax: 631-444-6176
Smithtown Office
222 Middle Country Road, Suite 209
Smithtown, NY 11787
Tel: 631-444-4545
Fax: 631-638-2830
For more information, including appointment scheduling and insurance participation, click here.
Personal Statement
Honors
Publications
Additional
My personal philosophy is to tailor care decisions to each patient as an individual. I use the latest technology and treatments to minimize the recovery time from treatment and to maximize the benefits. With my team we help you find the best way to establish and maintain a healthy, active life. We work together to select options for surgery, medical management, exercise, and nutrition.
Selected for inclusion in the Castle Connolly Guide, Top Doctors: New York Metro Area
Selected for inclusion in the Castle Connolly Guide, America's Top Doctors
Selected for inclusion in Newsday's "Top Doctors on Long Island"
Selected for inclusion in Guide to America's Top Surgeons (Consumers' Research Council of America)
Blue Cross-Blue Shield Bariatric Centers of Distinction Advisory Board (2011-2013)
Appointment as American Board of Surgery Associate Examiner (2008)
Weck Closure Systems Award for Excellence in Basic Science, First Place (1999)
National Research Service Award (1997-1999)
Association for Academic Surgery Medical Student Research Award (1995)
Brethauer SA, Pryor AD, Chand B, Schauer P, Rosenthal R, Richards W, Bessler M; American Society for Metabolic and Bariatric Surgery Emerging Technologies Committee. Endoluminal procedures for bariatric patients: expectations among bariatric surgeons. Surg Obes Relat Dis 2009;5:231-6.
Ceppa EP, Park CW, Portenier DD, Pryor AD. Single-incision laparoscopic right colectomy: an efficient technique. Surg Laparosc Endosc Percutan Tech 2012;22:88-94.
Corey KE, Maynard C, Pahlm O, Wilkins ML, Anderson ST, Cerqueira MD, Pryor AD, Raitt MH, Startt Selvester RH, Turner J, Weaver WD, Wagner GS. Combined historical and electrocardiographic timing of acute anterior and inferior myocardial infarcts for prediction of reperfusion achievable size limitation. Am J Cardiol 1999;83:826-31.
de la Fuente SG, Demaria EJ, Reynolds JD, Portenier DD, Pryor AD. New developments in surgery: Natural Orifice Transluminal Endoscopic Surgery (NOTES). Arch Surg 2007;142:295-7.
Diesen DL, Erhunmwunsee L, Bennett K, Ben-David K, Yurcisin B, Ceppa EP, Omotosho PA, Perez A, Pryor AD. Effectiveness of laparoscopic computer simulator versus usage of box trainer for endoscopic surgery training of novices. J Surg Educ 2011;68:282-9.
Evans JA, Branch MS, Pryor AD, Demaria EJ. Endoscopic closure of a gastrojejunal anastomotic leak (with video). Gastrointest Endosc 2007;66:1225-6.
Ginsberg GG, Chand B, Cote GA, Dallal RM, Edmundowicz SA, Nguyen NT, Pryor A, Thompson CC. A pathway to endoscopic bariatric therapies. ASGE/ASMBS Task Force on Endoscopic Bariatric Therapy. Gastrointest Endosc 2011;74:943-53.
Harnisch MC, Portenier DD, Pryor AD, Prince-Petersen R, Grant JP, DeMaria EJ. Preoperative weight gain does not predict failure of weight loss or co-morbidity resolution of laparoscopic Roux-en-Y gastric bypass for morbid obesity. Surg Obes Relat Dis 2008;4:445-50.
Johnson WH, Fecher AM, McMahon RL, Grant JP, Pryor AD. VersaStep trocar hernia rate in unclosed fascial defects in bariatric patients. Surg Endosc 2006;20:1584-6.
Johnson WH, Fernanadez AZ, Farrell TM, Macdonald KG, Grant JP, McMahon RL, Pryor AD, Wolfe LG, DeMaria EJ. Surgical revision of loop ("mini") gastric bypass procedure: multicenter review of complications and conversions to Roux-en-Y gastric bypass. Surg Obes Relat Dis 2007;3:37-41.
Kadera BE, Lum K, Grant J, Pryor AD, Portenier DD, DeMaria EJ. Remission of type 2 diabetes after Roux-en-Y gastric bypass is associated with greater weight loss. Surg Obes Relat Dis 2009;5:305-9.
Lee SM, Pryor AD. Future directions in bariatric surgery. Surg Clin North Am 2011;91:1373-95.
Manson RJ, Pryor AD. Bipolar sealing increases mesenteric reach during bowel transection compared with stapled division: clinical evidence and laboratory support in a porcine model. Surg Endosc 2008;22:1894-8.
Myers CJ, Mutafyan G, Pryor AD, Reynolds J, DeMaria EJ. Mucosal and serosal changes after gastric stapling determined by a new "real-time" surface tissue oxygenation probe: a pilot study. Surg Obes Relat Dis 2010;6:50-3.
Park CW, Pryor AD. Laparoscopic repair of a large pericardial hernia. Surg Endosc 2013;27:2971-3.
Park CW, Pryor AD. Single site fundoplication and foregut procedures. Dig Liver Dis 2011;43:358-60.
Pryor AD. Bariatric reoperative surgery for gastrogastric fistulae, marginal ulcers and metabolic syndrome. Audio-Digest General Surgery 2012;59(20).
Pryor AD. How to choose a bariatric procedure after failed laparoscopic adjustable gastric banding. Audio-Digest General Surgery 2012;59(20).
Pryor AD. Laparoscopic gastrectomy. In :Fischer JE, Jones DB, Pomposelli FB, Upchurch GR, editors. Fischer's Mastery of Surgery. 6th ed. New York: Lippincott, Williams and Wilkins, 2012.
Pryor AD. Laparoscopic truncal vagotomy with antrectomy and Billroth I reconstruction. In: Nussbaum M, editor. Master Techniques in Surgery: Gastric Surgery. New York: Lippincott, Williams and Wilkins, 2012.
Pryor AD. Surgical evolution: collaboration is the key. Arch Surg 2005;140:237-40.
Pryor AD; SAGES Research and Career Development Committee. A monograph for academic career development. Surg Endosc 2010;24:1211-2.
Pryor AD, Tushar JR, DiBernardo LR. Single-port cholecystectomy with the TransEnterix SPIDER: simple and safe. Surg Endosc 2010;24:917-23.
Qureshi A, Vergis A, Jimenez C, Green J, Pryor A, Schlachta CM, Okrainec A. MIS training in Canada: a national survey of general surgery residents. Surg Endosc 2011;25:3057-65.
Rawlings A, Soper NJ, Oelschlager B, Swanstrom L, Matthews BD, Pellegrini C, Pierce RA, Pryor A, Martin V, Frisella MM, Cassera M, Brunt LM. Laparoscopic Dor versus Toupet fundoplication following Heller myotomy for achalasia: results of a multicenter, prospective, randomized-controlled trial. Surg Endosc 2012;26:18-26.
Roller JE, de la Fuente SG, DeMaria EJ, Pryor AD. Laparoscopic Heller myotomy using hook electrocautery: a safe, simple, and inexpensive alternative. Surg Endosc 2009;23:602-5.
Ross S, Rosemurgy A, Albrink M, Choung E, Dapri G, Gallagher S, Hernandez J, Horgan S, Kelley W, Kia M, Marks J, Martinez J, Mintz Y, Oleynikov D, Pryor A, Rattner D, Rivas H, Roberts K, Rubach E, Schwaitzberg S, Swanstrom L, Sweeney J, Wilson E, Zemon H, Zundel N. Consensus statement of the consortium for LESS cholecystectomy. Surg Endosc 2012;26:2711-6.
Urbach DR, Horvath KD, Baxter NN, Jobe BA, Madan AK, Pryor AD, Khaitan L, Torquati A, Brower ST, Trus TL, Schwaitzberg S. A research agenda for gastrointestinal and endoscopic surgery. Surg Endosc 2007;21:1518-25.
Villamizar N, Pryor AD. Safety, effectiveness, and cost effectiveness of metabolic surgery in the treatment of type 2 diabetes mellitus. J Obes 2011;790683.
Villamizar N, Pryor AD. SPIDER and Flexible Laparoscopy: The Next Frontier in Abdominal Surgery. Surg Technol Int 2010;20:53-8.
Wilkins ML, Anderson ST, Pryor AD, Weaver WD, Wagner GS. Variability of acute ST-segment predicted myocardial infarct size in the absence of thrombolytic therapy. Am J Cardiol 1994;74:174-7.
Wilkins ML, Maynard C, Annex BH, Clemmensen P, Elias WJ, Gibson RS, Lee KL, Pryor AD, Selker H, Turner J, Weaver WD, Anderson ST, Wagner GS. Admission prediction of expected final myocardial infarct size using weighted ST-segment, Q wave, and T wave measurements. J Electrocardiol 1997;30:1-7.
Wilkins ML, Pryor AD, Maynard C, Wagner NB, Elias WJ, Litwin PE, Pahlm O, Selvester RH, Weaver WD, Wagner GS, et al. An electrocardiographic acuteness score for quantifying the timing of a myocardial infarction to guide decisions regarding reperfusion therapy. Am J Cardiol 1995;75:617-20.
Yoo, JS, Pryor AD. Abdominal access techniques used in laparoscopic surgery. UpToDate. 2011-2012.
Fellow, American College of Surgeons (FACS)
Associate Examiner, American Board of Surgery
Board Member and Committee Chair, Society of American Gastrointestinal and Endoscopic Surgeons (SAGES)
Chair, Emerging Technology and Procedures Committee, American Society for Metabolic and Bariatric Surgery
Consultant, American Board of Surgery
Member, American Society for Metabolic and Bariatric Surgery
Member, Association for Academic Surgery
Member, Association for Program Directors in Surgery
Member, Association of Women Surgeons
Member, Fellowship Council
Member, International Society of Surgery
Member, North Carolina Medical Society
Member, Sabiston Surgical Society
Member, Society of American Gastrointestinal Endoscopic Surgeons
Member, Society for Surgery of the Alimentary Tract
Member, Society of University Surgeons