Board Certifications
Education
MD
University of Milan (1980; Italy)
PhD
University of Bergen (1996; Norway; field, Colorectal Cancer)
Residency Training
General Surgery, Hautepierre University Hospital, Strasbourg, France (1984-86)
Trauma Surgery, Central Middlesex Hospital, London, England (1986)
General Surgery, Kirkenes Hospital, Kirkenes, Norway (1987-88)
Orthopedic Surgery, University Kyst-hospitalet i Hagavik, Hagavik, Norway (1988-90)
Trauma and General Surgery, Haukeland University Hospital, Bergen, Norway (1991)
General Surgery (Chief Resident), Angers University Hospital, Angers, France (1992-93)
Fellowship Training
Colorectal Cancer, University of Bergen, Norway
Affiliated Specialty Center
Clinical Interests/Expertise
Laparoscopic — including robotic — and conventional surgery for colon and rectal cancer, inflammatory bowel disease (Crohn's disease, ulcerative colitis), diverticulitis, and rectal prolapse

Treatment of anorectal abscess, constipation, fistula, fissure, rectocele, hemorrhoids, intestinal obstruction, obstructed defecation, and fecal incontinence

Colonoscopy

Laparoscopic surgery for gallbladder, appendix, or spleen removal, gastroesophageal reflux disease (GERD; chronic severe heartburn), achalasia (severe swallowing difficulty), incisional/ventral hernia, and groin hernia

Rectal cancer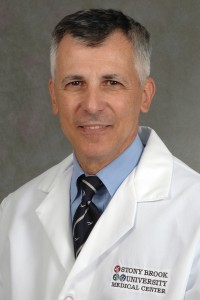 Contact Information
Division of Colon and Rectal Surgery
Department of Surgery, Health Sciences Center T18-046B
Stony Brook Medicine
Stony Brook, NY 11794-8191
Tel: 631-444-2704
Fax: 631-444-7784
For patient care information, including insurance participation and practice locations, click here.
Honors
Publications
Additional
Gold Medal (for first laparoscopic colectomy), University of Vilnius School of Medicine, Vilnius, Lithuania (1996)
Osaka City Gold Medal, Osaka, Japan (2002)
---

> Click here to see abstracts/full text of Dr. Bergamaschi's journal articles on PubMed (National Library of Medicine).

---

Corman ML, Bergamaschi R, Nicholls RJ, Fazio VW, editors. Corman's Colon and Rectal Surgery. 6th ed. Philadelphia: Lippincott Williams & Wilkins, 2012.

"This is the definitive book in colorectal surgery and the diseases of the colon, rectum, and anus in general. It is an exhaustive reference that spans the history of the subject right up to the most current and contemporary treatments and research. As is well known, everything is covered in this book. The now classic historical vignettes are a terrific addition and a fantastic distraction as one pours thorough content-laden pages. The index is exhaustive, as it must be to handle the breadth of information. This is a fantastic edition of a legendary book. The addition of guest editors is seamless. This is a necessary and essential part of the library of all surgeons." — Doody's Reviews


---

Francis N, Fingerhut A, Bergamaschi R, Motson R, editors. Training in Minimal Access Surgery. London: Springer-Verlag, 2015.

This book provides a broad overview on training in minimal access surgery, with expert opinions from leaders in the field clarifying the definitions and terminology related to competence and accreditation. It also provides expert advice on how to set up a training unit, and explores the role and impact of all types of simulations on training including virtual reality simulation. There is well-established and robust evidence to support the benefits of laparoscopic surgery in terms of better pain control, fewer complications, and shorter length of stay with an earlier return to work. Hence, there is now widespread adoption of laparoscopic techniques in many surgical specialties including colorectal and morbid obesity surgery around the world.