Guedalia Sawadogo, 2, Is Expected to Make a Full Recovery and Use Her Hand Normally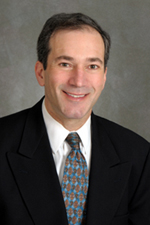 Alexander B. Dagum, MD, chief of plastic and reconstructive surgery, and his team have helped to heal a little girl from the small West African nation Burkina, who was brought to Stony Brook University Medical Center, where they treated her severely injured right hand.
Dr. Dagum performed the procedure to correct her problem, called claw hand, on November 14. Two weeks later, the girl, named Guedalia Sawadogo, had her first hand therapy session post surgery. She is progressing nicely with the therapy, and she will be able to use the hand again — thanks to Stony Brook and the charity of those who brought her here. The surgery was performed at no charge, on a "pro bono" basis.
Guedalia, now two years old, was nine months old she burned her right hand in a pot of boiling oil used for cooking, an accident all too common in children from developing countries. Without access to specialized care for trauma where she lives in the city of Kaya in West Africa, Guadalia did not receive surgical grafting to treat her wounds from the third degree burns. Over time she developed a significant contracture of her right thumb, index finger and hand.
"The hand situation had been a debilitating condition for Guedalia, and I wanted to see if we could bring her to Long Island and have the surgery," says Dr. Howard Makofsky, of Mastic Beach, a Long Island physical therapist who runs an outreach organization called Kaya's Kids, which helps support an orphanage in West Africa. Guedelia's parents work at the orphanage. Through physical therapy sessions, Dr. Makofsky was not able to correct Guedalia's finger enough for her to carry on activities for daily living and her development.
He appealed to surgical specialists on Long Island about Guedalia's difficult circumstances and found Dr. Dagum, who agreed to perform the surgery. So the decision was made to bring her to Long Island and to Stony Brook.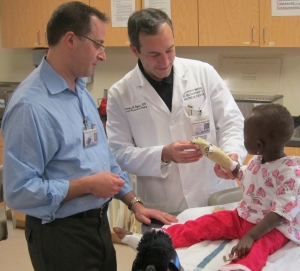 Because of the severity of her condition, the procedure represented a significant educational opportunity for medical trainees who observed the operation. This qualified Dr. Dagum's operation as a teaching case through the School of Medicine. Guedalia's family will not have to pay for the surgery and related services at Stony Brook. Michael Weisburger, MD, a Stony Brook hand surgery fellow, assisted Dr. Dagum.
"Thousands of children in developing countries suffer injuries from burns that are similar to Guedalia's but they never have the chance to have corrective surgery to then lead normal lives," says Dr. Dagum. "If this type of burn happens in the United States, immediate treatment would lead to proper healing and contractures would not result. We were thrilled to be able to help Guedalia, a very well adjusted and cheerful little girl."
At Stony Brook and through various global health organizations, Dr. Dagum has surgically repaired hundreds of hand and finger contractures at healthcare facilities in many developing nations, helping to transform the lives of children and adults who otherwise could not complete daily activities without compromise and much difficulty. He expects Guedalia to make a full recovery and use her right hand normally over time.
The World Health Organization reports that burns remain a major global health problem, particularly in the developing world where thousands of children suffer burns each year that leave them with disabilities. Children with disabilities in some developing nations generally do not attend school, which further halts their normal development.
On December 1, Evan Ludin, supervisor of hand therapy at Stony Brook, began the first of several hand and occupational therapy sessions for Guedalia before she returns to West Africa on December 13.
While Guedalia is unaware of how thankful her family is that she received corrective hand surgery at Stony Brook this holiday season, once she got used to her first hand therapy session she smiled and showed her inquisitive nature. That led Ludin to carve out a small figure from the splint material, which looked in color and shape like a little ginger bread man. With raised eyebrows and a giggle, Guedalia approved of her new figurine.
Dr. Dagum tells the story of how we helped Guedalia in this video (1:59 min):