Admission Requirements: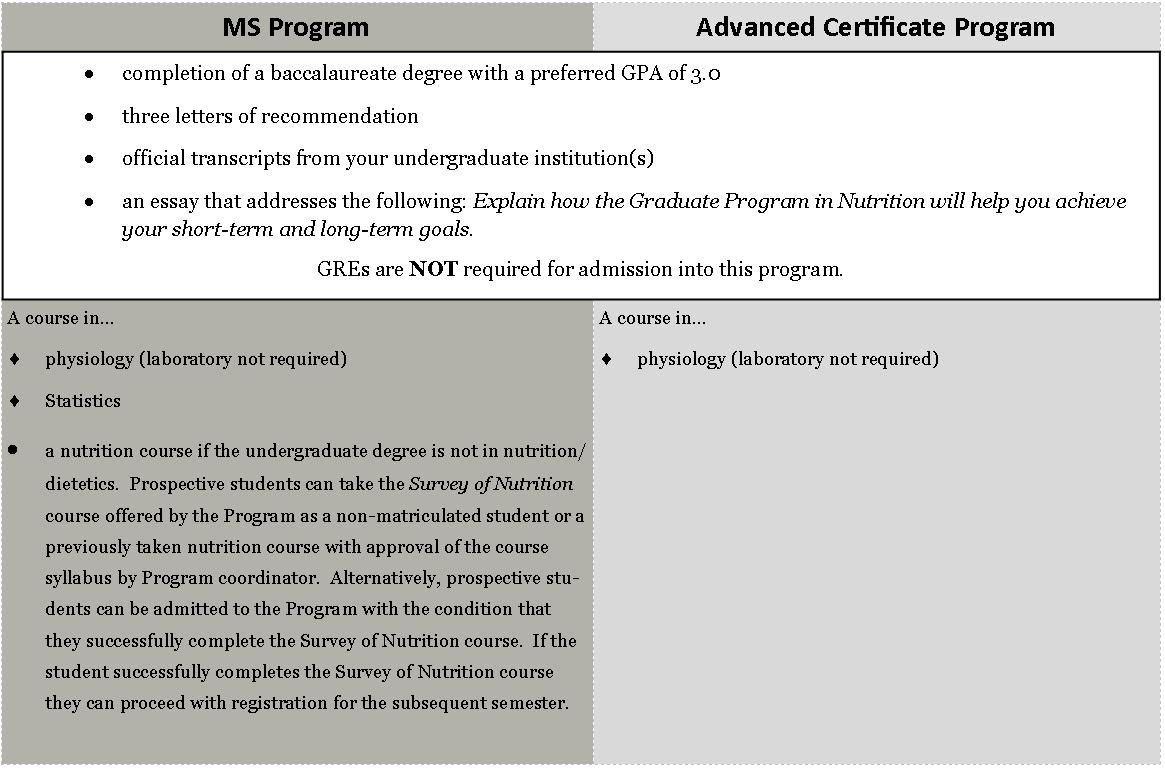 Students will be required to discuss progress and plans for class registration with their advisor before registering each semester. Students need to maintain a minimum overall GPA of 3.0, and a minimum grade of C+ in any one course. If a grade less than C+ is earned the course can be repeated one time. If the overall GPA falls under a 3.0, the student will be placed on academic probation and have six credits to meet the minimum GPA requirement.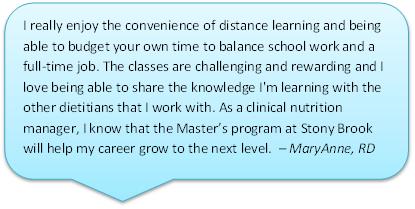 Courses will be offered to allow students to complete the graduate degree Program in 13 months (including 2 summer sessions, a fall semester and a spring semester) if you start in the Fall semester, and students must finish the Program in five years. Most students complete the program in 2 years. Those enrolled in the certificate program would also have the opportunity to complete the Program in 13 months(if they begin in Summer II) to 5 years. If an enrolled MS degree student would like the benefit of earning an advanced certificate along the way, the student must contact the program coordinator and begin the required paperwork within the first year of study.
All applicants to the Graduate Programs will be carefully reviewed by the Program's Admissions Review Committee. Candidates are selected based on demonstrated ability to succeed academically, references, appropriate volunteer/work experience, and written communication skills.

To apply to the MS or Advanced Certificate in Nutrition:

If you have questions regarding the application process, you can also go to the Office of Student Services webpage for additional information. The application for the Graduate Nutrition program can also be accessed from the Office of Student Services webpage.
Transfer credits:
Up to six credits worth of previous graduate coursework may be considered for transfer for the MS program only after a student is accepted. Transfer credits will not be accepted for the Advanced Certificate. Previous coursework may not have been taken more than five years prior to the application deadline. In addition, the credits cannot have been counted and used toward another degree/certificate. In order to be considered for transfer, the coursework must be at least 3 graduate credits and must closely mirror a course offered throught this program. All transfer credits must be approved by the Program Coordinator and the University.
A student who is matriculated in the Advanced Certificate or who has completed the Advanced Certificate may continue on to the Master of Science in Nutrition if they have maintained an overall GPA of 3.0 and a minimum of a C+ in any one course.
---
Recency of Education Policy:
If the most recent degree obtained is dated more than 10 years ago, our recency of education policy applies which states:
A student would have to complete, with a grade of C+ or better, 9 credits of specific college coursework in the past 10 years.
For a student interesting in applying for the MS program, those 9 credits would include:

Physiology (no lab required)

Statistics

Comprehensive Introduction to Nutrition Course (HFN 500 or another course with approval of program coordinator)

For a student interested in applying for the certificate program, those 9 credits would include:

Physiology (no lab required)

Comprehensive Introduction to Nutrition Course (HFN 500 or another course with approval of program coordinator)

3 additional college credits (recommended that they be relevant to the planned course of study, program coordinator should assist with course selection)
---
Deadline for application into the MS Nutrition or Advanced Certificate in Nutrition

Spring semester: December 1st

Summer semester: April 7th

Fall semester: July 1st(MS Nutrition applications only)
If you would like to apply to either program after these "preferred" dates, please contact the Program Assistant, Sharon Schmidt, at sharon.schmidt@stonybrookmedicine.edu.
Dietetic Internship applicants: If you applied to the Stony Brook University Dietetic Internship program and your DPD Verification statement is dated less than 3 years ago, you do not need to submit additional letters of recommendation or a personal statement.
Tuition
The tutition for all courses is credit-based and set by Stony Brook University. To access the tuition and fees, visit the Bursar webpage, www.stonybrook.edu/bursar/, and look for graduate tuition costs. It will vary based on residency (in-state vs. out-of-state). All students will also be assessed a $100 application fee when initially applying to the program. Tuition and fees (including application fee) are subject to change.
Scholarships
The Graduate Nutrition Program does not provide any scholarships. There are scholarships available through the Academy of Nutrition and Dietetics. The requirements are as follows:
Planned or current enrollment in an advanced degree program in a US regionally accredited college or university. Students who are already enrolled in an ACEND-accredited dietetic internship (DI) and will be completing a graduate program in 2016-2017 should apply for a graduate scholarship.
Intention to practice in the field of dietetics.
U.S. citizen or permanent resident.
Academy member
*Some scholarships require specific areas of study (e.g., public health nutrition, foodservice administration, and medicine) and status as a registered dietitian. This information is requested in the application form.
More information can be foudn on the Academy's website.
How do I register for courses?
Complete the application using the Apply Online Here button. Once the application is processed and you are accepted, you will receive a letter with your Stony Brook University ID. You will use that to log onto SOLAR to enroll in courses.
How do I matriculate into the program?
All new students who want to be admitted the the program must use the online application above and will be matriculated directly into the program.
Where do I send my transcripts?
Health Sciences Office of Student Services
Health Sciences Tower
Stony Brook University
Level 2, Room 271
Stony Brook, New York 11794-8276
---