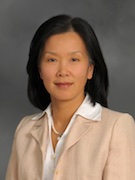 Huichun Zhan, MD, MS
Huichun.zhan@stonybrookmedicine.edu
Lab Location: Health Sciences Tower,
15th Floor, Room 89
---
Assistant Professor of Medicine
Hematology-oncology fellowship, The Johns Hopkins University School of Medicine
Internal Medicine, Albert Einstein College of Medicine at Long Island Jewish Medical Center
M.D., Peking Union Medical College, Beijing, China
M.S., Cornell University Weill Graduate School of Medical Sciences, New York, NY
Clinical interests:
Polycythemia vera
Essential thrombocythemia
Primary myelofibrosis
Bleeding
Thrombosis
Laboratory interests:
Hematopoietic stem cell biology
Endothelial cell function
Megakaryocyte function
Hematopoietic microenvironment
---

Lab Overview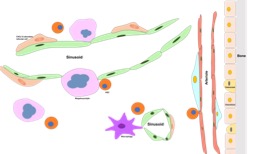 The Zhan lab focuses on the pathogenesis and treatment of myeloproliferative neoplasms (MPNs). The MPNs are clonal stem cell disorders characterized by hematopoietic stem/progenitor cell (HSPC) expansion and overproduction of mature blood cells. The acquired mutation JAK2V617F plays a central role in these disorders, but the precise molecular mechanisms responsible for MPN HSPC expansion are not fully understood, limiting the effectiveness of current treatments. Using molecular and genetic techniques in both MPN patient samples and transgenic murine models, our lab studies how the hematopoietic microenvironment cells (e.g. endothelial cells, megakaryocytes) contribute to the neoplastic stem cell expansion in MPNs. The ultimate goal of our research is to understand the fundamental principles of stem cell biology and develop more effective therapies for patients with MPNs and other hematologic malignancies.
---

Lab Personnel
Harrison Seidner, PhD, Post-doctoral Fellow
Christopher Mazzeo, Medical Student
Helen Wong, Undergraduate Student
Yu Zhang, Graduate Student
---

Alumni
Chi Hua Sarah Lin, PhD Current position: New York Blood Center
Yarden Segal, Current position: Medical student at St George's University of London School of Medicine
---
Selected Publications
Huichun Zhan, Chi Hua Sarah Lin, Yarden Segal, Kenneth Kaushansky. The JAK2V617F-bearing Vascular Niche Promotes Clonal Expansion in Myeloproliferative Neoplasms. Leukemia 2017 (accepted).
Chi Hua Sarah Lin, Kenneth Kaushansky, Huichun Zhan. JAK2V617F-mutant Vascular Niche Contributes to JAK2V617F Clonal Expansion in Myeloproliferative Neoplasms. Blood Cells, Molecules, and Diseases 2016 Nov; 62:42-48. doi: 10.1016/j.bcmd.2016.09.004.
Huichun Zhan, Yupo Ma, Chi Hua Sarah Lin, Kenneth Kaushansky. JAK2V617F-mutant Megakaryocytes Contribute to Stem Cell Expansion in Myeloproliferative Syndromes. Leukemia 2016 May 2. doi: 10.1038/leu.2016.114.
Huichun Zhan, Kristen Ciano, Katherine Dong, Stanley Zucker. Targeting Glutamine Metabolism in Myeloproliferative Neoplasms. Blood Cells, Molecules, and Diseases 2015 Oct; 55(3): 241-7.
Huichun Zhan, Christopher Cardozo, Azra Raza. MciroRNAs in Myeloproliferative Neoplasms. British Journal of Haematology 2013 161(4): 471-83.
Huichun Zhan, Christopher Cardozo, Wayne Yu, Antai Wang, Alison Moliterno, Chi Dang, Jerry Spivak. MicroRNA Deregulation in Polycythemia Vera and Essential Thrombocythemia Patients. Blood Cells, Molecules, and Diseases 2013 Mar; 50(3): 190-5.
Zhaohui Ye*, Huichun Zhan*, Prashant Mali, Sarah Dowey, Yoon-Young Jang, Chi V. Dang, Jerry L. Spivak, Alison R. Moliterno, and Linzhao Cheng. Derivation of human iPS cells from blood cells of patients with acquired blood disorders. Blood 2009 Dec; 114(27):5473-5480.
Huichun Zhan, Jerry Spivak. The Diagnosis and Management of Polycythemia Vera, Essential Thrombocytosis and Primary Myelofibrosis in the JAK2 V617F Era. Clinical Advances in Hematology and Oncology. 2009 May; 7(5): 334-42.
Huichun Zhan, Michael Streiff, Karen King, Jodi Segal. Thrombotic Thrombocytopenic Purpura at Johns Hopkins from 1992 to 2008: Clinical Outcomes and Risk Factors for Relapse. Transfusion. 2009.
Huichun Zhan, Lorraine J. Gudas, Dean Bok, Robert Rando, David M. Nanus, and Satish K. Tickoo. Differential Expression of the Enzyme Lecithin: Retinol Acyl Transferase in Subtypes of Human Renal Cancer and Normal Kidney. Clinical Cancer Research Oct.15 2003; 9 (13).
Huichun Zhan, Depei Liu. Insulator: From Chromatin Domain Boundary to Gene Regulation. Human Genetics Nov. 2001; 109(5): 471-8.
Chi Hua Sarah Lin, Yu Zhang, Kenneth Kaushansky, Huichun Zhan. JAK2V617F-bearing Vascular Niche Enhances Malignant Hematopoietic Regeneration Following Radiation Injury. 2018 Haematologica doi: 10.3324 /haematol.2017.185736