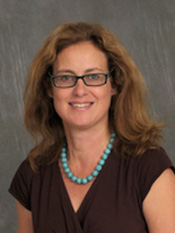 Bettina Fries, MD, FIDSA
Division Chief
The Division of Infectious Diseases has active clinical teaching services and outpatient clinics, recording approximately 75 inpatient and 200 outpatient visits per month at each hospital. The division supervises the New York State designated AIDS Center at University Hospital, which includes an inpatient unit, an outpatient clinic and treatment area, and a staff of physicians, nurse practitioners, nurses and social workers.
Research is carried out by the nine full-time members of the division in the following areas.
Lyme Disease Research Group:
Stony Brook is situated at the epicenter of Lyme disease in North America. Our University Hospital sees several hundred patients per year. The Division of Infectious Diseases is at the forefront of an interdepartmental research program, using cutting edge molecular biological techniques to develop reliable diagnostic tests, multivalent vaccines and innovative therapies.
AIDS Center:
The AIDS Center, a New York State designated program, encompasses a multidisciplinary approach to management of patients with HIV infection. The Comprehensive HIV/AIDS Center has a large clinical research program involved in the testing of new therapies for HIV treatment as well as development of a vaccine for HIV. These programs interrelate to basic investigations of HIV pathogenesis by examining immune reconstitution of people under therapy for HIV infections. New therapies for HIV based upon identification of target sites in HIV replication cycles are under study. The Center also includes the State-funded HIV Clinical Scholars Program, an educational program supported by the New York State Department of Health's AIDS Institute.
Other areas of investigation are:
Studies of Toxoplasma gondii with the aim of identifying steps in replication that may be susceptible to chemotherapy
Studies of the molecular pathogenesis of Hantavirus which leads to Adult Respiratory Distress Syndrome (ARDS); In vitro, in vivo and clinical trials of investigational antibacterial and antiviral agents; epidemiology of antimicrobial use and abuse
Epidemiology and prevention of nosocomial infections, infections in patients with compromised host defenses and infection with resistant organisms
Host defense mechanisms for infectious organisms, such as Cryptosporidium, Leishmania donovani, Salmonella typhi, Borrelia burgdorferi, Toxoplasma gondii and Trichinella spiralis
Molecular mechanism of microbial adherence to mucosal and endothelial surfaces
Medical students may take the clinical infectious diseases rotation. Students evaluate patients seen in consultation and discuss each patient with division fellows and faculty. Students also gain experience working with a modern clinical microbiology laboratory. Electives are available at both hospitals. Under attending supervision, residents see patients in consultation.
The division has an ACGME-approved fellowship program in Infectious Diseases. The two-to-three-year program encompasses both clinical and research activity. Divisional conferences include a weekly Core Review (Journal Club), a weekly Clinical Conference, monthly Research Conferences and a yearly lecture series on immunology, biostatistics, research design and public health. In addition to working with members of the Infectious Disease faculty in the Department of Medicine, arrangements can be made for postdoctoral fellows to work in laboratories of members of the basic science departments, such as Microbiology and Pharmacology, the Center for Infectious Disease of the Center for Molecular Medicine and Biology and the recently inaugurated Graduate Program in Public Health of our Medical School.
Sincerely,
Bettina Fries, MD, FIDSA
Chief, Division of Infectious Diseases