Academic Wednesdays
While on ambulatory rotation or elective for the preliminary residents, this day is dedicated to teaching and educational activities without patient responsibilities. The day starts off with Medicine Grand Rounds followed by simulation lab activities, high value care curriculum, and then a structured curriculum spread over the year covering mentoring, board review, patient safety and quality improvement, wellness, residents as teachers, transitions of care, and research design.
ACP Doctor's Dilemma Competition
Stony Brook Internal Medicine residents proudly represent Stony Brook Medicine at the NY Chapter of ACP Doctor's Dilemma competition. After going through qualifying rounds of mock Doctor's Dilemma, four residents are selected to undergo intense four week practice sessions prior to the main event.
Ambulatory Report
Ambulatory Report, weekly at our ambulatory clinics, emphasizes diagnosis and management of common outpatient conditions, including the latest guidelines. It is presented by residents, and facilitated by a clinic preceptor.
Board Review
Board review is conducted by the program directors and chiefs at both the Northport VA and at Stony Brook. It is an interactive session, which includes jeopardy and board style questions, geared towards preparing our residents for the ABIM board exam after residency.
Clinical Skills Simulation Lab
Categorical and preliminary residents participate in simulation lab exercises every ambulatory block and during electives. Residents attain proficiency in emergent and non-emergent bedside procedures including central lines, paracentesis, lumbar punctures, and intraosseous insertions. A formal training program on bedside ultrasonography is provided by Critical Care faculty. These skills are then incorporated in a series of clinical case scenarios simulating cardiac arrest, followed by debriefing sessions. Code blue team training and code blue leadership skills are taught using simulation.
Collaborative Mentorship Program
This program guides residents through the mentorship process with peer and faculty facilitator feedback. Residents will learn to do a self-assessment of their individual mentoring needs, systematically prepare for, and form meaningful mentor-mentee relationships. They will create individual development plans and mentorship networks. Residents will also have the opportunity to review their CVs, research projects, and portfolios with faculty members. The program is designed to promote self-efficacy, self-management, and resourcefulness to achieve individual career goals.
Conference
Conference is held twice weekly at Stony Brook and daily at the VA. In order to provide a robust learning experience, we select core faculty members from different subspecialties to deliver clinically relevant topics. These topics are carefully selected based on ABIM recommended content areas, with the number of lectures in a subspecialty based on the percentage of content tested on the ABIM boards. This ensures that residents receive the allotted amount of lectures and topics necessary for the ABIM examination at the end of training.
Evidence Based Medicine Curriculum
Evidence Based Medicine (Journal club) is conducted in a small group round table discussion on a monthly basis. At the beginning of the year, residents are offered an introductory session on how to formulate clinical questions and search the literature. Each session following is focused on learning how to appraise the data using a systematic approach. Landmark trials are discussed to build a foundation of the critical clinical trials in Internal Medicine. Throughout the year, residents gain exposure to different types of articles including: therapy and prevention, diagnostics, clinical decision rule, guideline/systematic review. EBM is also integrated in daily resident report where a clinical case is presented and the evidence is appraised after the case discussion.
Grand Rounds Introductions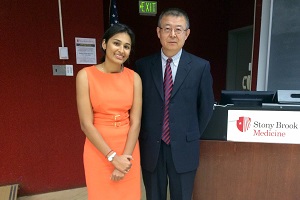 Residents are invited to present a clinical vignette during Medicine Grand Rounds to the faculty, residents, and fellows. This presentation prefaces the main talk followed by introduction of the speaker by the resident. Residents volunteer based on their interest in the specialty. This provides an outstanding opportunity to be involved in Grand Rounds, to present to a large-scale audience and to network with faculty presenters from within and outside the institution.
High Value Care Curriculum
All residents receive the ACP High Value Care curriculum lecture series during their intern year. This provides residents with the opportunity to learn about (and practice) high value care. With health care costs soaring, this is a hot topic and our residents are provided with education in 5 core topics including: healthcare costs and payment models, eliminating healthcare wastes and over ordering tests, high value diagnostic testing and cancer screening, high value hospitalization, and overcoming barriers to high value care. This is especially important since many of the milestones in the Systems Based Practice competency directly involve learning to practice cost conscious care. The High Value Care Curriculum (HVC) has been jointly developed by the American College of Physicians (ACP) and the Alliance for Academic Internal Medicine (AAIM) in an effort to train physicians to be good stewards of limited healthcare resources.
Intern Series
These small group sessions address commonly encountered clinical scenarios. Each session takes place in an informal setting, is restricted to interns only, and is led by the chief medical residents. The goal is to help interns develop autonomous decision making skills and ensure that first year residents feel comfortable and confident managing patients while on night float or inpatient services. Emphasis is placed on knowing when to ask for help and underscores the "never worry alone" culture at Stony Brook.
Morbidity, Mortality and Improvement (MM&I) Conference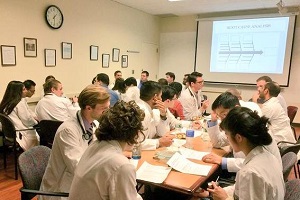 We take pride in promoting the just culture and maintaining collegial relationships with other departments and disciplines during our monthly MM&I conferences. We implemented our "Learning from Errors" curriculum that refocuses the content of and transforms M&M into a platform for teaching patient safety principles and emphasizes error reduction strategies. Cases are presented in a workshop-style format followed by small group activity in which trainees were assigned specific safety tasks: 1) systematic analysis of an error, 2) conduct root cause analysis, 3) resident peer review and creation of an action plan. Action plans are presented to the patient safety quality council for analysis and discussion.
Online Resources for Stony Brook IM
Didactic information is easily accessible via our residency program's Twitter Account and Chiefs' Website. You also have access to the Health Sciences Library, which includes numerous scientific journals and medical apps (Ex. UpToDate, DynaMed, LexiComp, Visual Dx, etc.)
Patient Centered Medical Home (PCMH) and Patient Aligned Care Team (PACT)
Tech Park Clinic residents and Northport VA clinic residents care for patients in a collaborative, interprofessional setting. Both sites meet national standards for providing patient-centered care. The settings provide residents the opportunity to train in practice settings aligned with core principles for 21st century health care – the "triple aim" of quality, value, and population health.
Quality Improvement and Patient Safety Project
The Patient Safety and Quality Improvement (QI) curriculum integrates didactics, small group discussion and project-based learning. Lectures cover a variety of topics that focus on the fundamentals of medical errors and the use of a systems approach to prevent patient harm. The project-based quality improvement curriculum is designed to enhance resident knowledge of QI methodologies, provide hands-on experiences in implementing and analyzing quality processes, and prepare trainees to be able to implement continuous quality improvement in their future practices. The residents work on group QI projects in their ambulatory clinic that are aligned with the aims of the Patient Centered Medical Home. Our peer-selected Patient Safety Quality Council (PSQC) identifies and takes a scholarly approach to address patient safety issues identified by the internal medicine residents. This council has been identified a model program for other residency programs at Stony Brook.
Resident Advisory Council (RAC)
This peer elected council is made up of representatives from each residency class as well as from our preliminary and medicine-pediatrics program. Elected members meet with Dr. Lane on a monthly basis to discuss and develop action plans to address important issues identified by the residents. We focus on the educational environment and resident well-being. Our 4+1 schedule is an example of a resident-led initiative that has been highly successful. Resident feedback is a major driver of innovation in our program.
Resident Report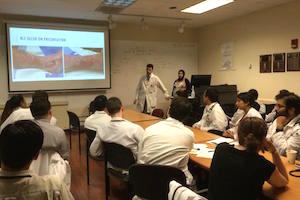 Resident Report is held three times per week at Stony Brook and four days per week at the VA. This core educational activity highlights collegial participation from residents, medical students, and faculty from various divisions in the department of medicine. EBM is incorporated following the PICO format. A MKSAP question related to the case and didactic at the end of resident report emphasize the key teaching points. Finally, a "take home points" slide is posted on our chiefs' website.
Resident Scholarship Program
Internal medicine residents are required to complete a research scholarship project during their residency. This program is created to advance residents' involvement in scholarly activities. Residents will be introduced to research methodology including formulating research question and hypothesis, developing study plan, basics of literature search, evidence-based medicine and critical appraisal of the literature, IRB submission, responsible conduct of research and scholarship, etc. This is done in a lecture format during Academic Wednesdays as well as self-directed reading of Resident Research Handbook authored by the Director of Scholarship Program, Dr. Teressa. Furthermore, residents will receive a lecture on basics of biostatistics by our department biostatistician. Residents will have the opportunity to meet one-to-one with Dr. Teressa two times a year or as needed to discuss their scholarly activity.