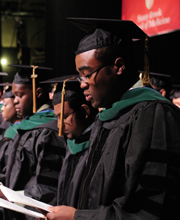 123 New Doctors: Largest Graduating Class in SBU School of Medicine History
NIH's Dr. Griffin Rodgers preps grads to embrace era of "personalized medicine"
STONY BROOK, N.Y., May 25, 2012 – At Stony Brook University School of Medicine's 38th Convocation, 123 graduates became the School's latest crop of new physicians, the largest class in its history. A celebratory atmosphere with a packed crowd filled the Staller Center at Stony Brook University during the convocation ceremony on May 17. The new physicians begin their residency programs in July, with more than half of the class (62 percent) at residencies in New York State and 38 percent in other states. One-third will practice at hospitals on Long Island.
"The Class of 2012 enters a discipline that carries with it an awesome responsibility, one that requires life-long learning, and one in
Dr. Laura Cheney during the traditional doctoral hooding ceremony is hooded by her husband, Dr. Jimmy Joseph, Class of 2007.
which you help people through some of the most difficult times in their lives," said Kenneth Kaushansky, M.D., M.A.C.P., Senior Vice President of the Health Sciences, and Dean, School of Medicine. "We know our graduates will excel as they received an outstanding medical education. We wish them the very best in their chosen career pathways."
Convocation speaker Dr. Griffin P. Rodgers, Director of the National Institute of Health's National Institute of Diabetes, Digestive and Kidney Diseases (NIDDK), urged the graduates to seize new opportunities as physician-scientists.
"On this landmark day in your lives look toward tomorrow, as you will go places and do things in your decades as a healer that you would never have imagined," said Dr. Griffin. "With the unraveling of the human genome and our increasing knowledge of genetics and human disease, you will have exciting opportunities to diagnose and manage disease in this era of personalized medicine."
Dr. Rodgers, recognized nationally for his role in developing the first effective sickle cell anemia and as Director of the NIDDK, emphasized that by combining their clinical and research skills, the graduates would "make a positive and profound difference in people's lives."
After receiving their degrees, the graduates took the Physicians' Oath for the first time as new doctors. This year graduates were able
New physician Dr. Danielle Matilsky takes a moment with her parents Drs. Joan Faro and Michael Matilsky, both Stony Brook School of Medicine 1982 graduates, and Aldustus Jordan, Ed.D., Associate Dean, Student and Minority Affairs. Dr. Jordan mentored all three during their respective medical school years at Stony Brook.
to choose who would present them at the traditional doctoral hooding ceremony during the presentation of candidates. Traditionally "hooded" by School of Medicine faculty, candidates had the option to select a mentor, family member, friend, or other physician (or someone with an equivalent doctoral degree) to hood them.
Among those hooded by family members were: Dr. Danielle Matilsky, a Stony Brook native whose parents, Drs. Joan Faro and Michael Matilsky, also graduated from Stony Brook School of Medicine in 1982; and Dr. Laura Cheney, an MD/PhD graduate and newly married, with her husband, Dr. Jimmy Joseph, a 2007 Stony Brook School of Medicine graduate.
Collectively, the Class of 2012 will begin their journeys in medicine in one of 21 specialties, such as Internal Medicine, Emergency Medicine, Pediatrics, Neurology, and Surgery. Thirty-eight percent of the graduates will enter Primary Care specialties, which corresponds to current national health needs as Federal legislation is expected to increase the number of Americans with health insurance and America's population continues to age.
About Stony Brook School of Medicine:
Established in 1971, the Stony Brook School of Medicine includes 25 academic departments. The three missions of the School are to advance the understanding of the origins of human health and disease, train the next generation of committed, curious and highly capable physicians, and deliver word-class compassionate healthcare. As a member of the Association of American Medical Colleges (AAMC) and a Liaison Committee on Medical Education (LCME) accredited medical school, Stony Brook is one of the foremost institutes of higher medical education in the country. Each year the School trains nearly 500 medical students and over 480 medical residents and fellows. Faculty research includes National Institutes of Health-sponsored programs in neurological diseases, cancer, cardiovascular disorders, biomedical imaging, regenerative medicine, infectious diseases, and many other topics. Physicians on the School of Medicine faculty deliver world class medical care through more than 30,000 inpatient, 80,000 emergency room, and approximately 350,000 outpatient visits annually at Stony Brook University Hospital and affiliated clinical programs, making its clinical services one of the largest and highest quality on Long Island, New York. To learn more, visit www.medicine.stonybrookmedicine.edu
###