SBMS Trainee: Lyufei Chen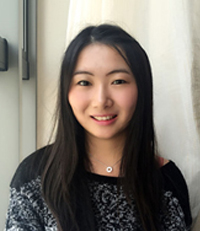 Graduate Advisor: Dr. Rina Tannenbaum
Clinical Advisor: Dr. Edward Wang
Graduate Program: Materials Science and Engineering
Email:


Lyufei joined the Department of Materials Science and Engineering at Stony Brook University after she received her bachelor's degree in 2013. During her undergraduate studies, her work focused on cyclodextrins (CDs) with different structures. Her diploma thesis was on the fabrication and comparison of nano-polyaniline fiber, that was accomplished by using CDs with α-, β- and γ- structures as models. Currently, she is a doctoral candidate in Dr. Rina Tannenbaum's Biomedical Nanomaterials Research Laboratory. Lyufei's research focuses on designing, engineering and assessing novel hybrid biomaterial nanocomposites for use as bone and tissue scaffolding materials. The goals of her research are to engineer anisotropic cellulose nanowhiskers reinforced with collagen nanocomposites, as well as assessing the impact of these hybrid nanocomposites on biological environments and functionality.