Posted by Stony Brook Surgery on February 21, 2012
By April Plank, DNP, of the Stony Brook Lung Cancer Evaluation Center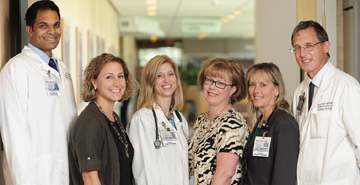 We are pleased to announce that the Stony Brook Lung Cancer Evaluation Center (LCEC) is one of six centers nationwide to be selected for the phase 2 study of ProvenCare for patients with lung cancer, in association with the American College of Surgeons Commission on Cancer (CoC).
The Pennsylvania-based Geisinger Health System set the bar high in 2005 when it demonstrated that an improvement model, when delivered 100% of the time, yields better outcomes for patients undergoing coronary artery bypass surgery.
This exceptional care model became known as ProvenCare. (See ProvenCare: Quality Improvement Model for Designing Highly Reliable Care in Cardiac Surgery.)
Geisinger, a well-respected organization, has since extended this improvement model to many other health-related entities. Only recently, however, did the group begin to embark on implementing an improvement model and standardized care for patients with lung cancer.
The lung cancer care arena deserves such quality because this disease remains the most common cause of cancer death in the United States among both men and women. Lung cancer claims the lives of more people than breast, colon, prostate, and ovarian cancers combined. In view of the grim statistics that plague those with lung cancer, the ProvenCare initiative is a welcome ray of hope.
The question that the study will attempt to answer is, Does the provision of the highest standards of care
positively influence the morbidity and mortality of paitients with lung cancer?
The ProvenCare Lung Cancer Collaborative between the CoC and Geisinger began its work in 2009, testing whether or not institutions were capable of providing care that met criteria for 100% success in all points along the journey of a patient diagnosed with lung cancer.
The collaborative established 37 critical elements that need to be met for each patient treated surgically for lung cancer. These elements span the time line of the journey of the patient with lung cancer. This begins at the time the patient first presents to the cancer center and ends five years after surgical resection of the cancer. The center will be credited for providing this highest level of care only if all elements are met.
The ProvenCare philosophy is simply "all or nothing." Credit for excellent care will only be given when the patient is provided with the highest standards of care at every level and at every point along the journey.
Why Stony Brook Was Chosen
The LCEC was founded in 2001 by cardiothoracic surgeon Thomas V. Bilfinger, MD, ScD, and a former Stony Brook pulmonologist with the goal of providing an interdisciplinary team approach for patients being evaluated and treated for lung cancer.
The LCEC's interdisciplinary team is co-directed by Dr. Bilfinger, who is a dedicated lung cancer thoracic surgeon, and Sajive Aleyas, MD, an interventional pulmonologist with a specialty in lung cancer. The team also includes a nurse navigator, nurse practitioners, a medical oncologist, a radiation oncologist, and an interventional radiologist, as well as numerous support staff; all of whom have a career focus on and specialty in lung cancer.
The LCEC has evaluated thousands of patients in the past decade, and made the diagnosis of lung cancer in more than 3,000 patients.
Survival curves are better for patients treated at Stony Brook when compared to national averages,
based on our last 10 years' data.
By far, the most impressive data recently made public, at the Lung Cancer Update Conference held at Stony Brook Medicine in November 2011, were the lung cancer patient survival curves. Survival curves are better for patients treated at Stony Brook when compared to national averages, based on our last 10 years' data.
It is speculated that lung cancer care received in a multidisciplinary center with a focus on such care likely attributes to the striking difference in survival curves.
With the addition of our participation in the ProvenCare collaborative, it is hoped that these curves, as well as quality of life and patient satisfaction scores, will improve even further.
The LCEC team unanimously accepted the challenge of joining such a prestigious group with the goal of providing excellent care that meets the standards established for every patient, 100% of the time. The group is honored to be a part of this initiative.
The Lung Cancer Evaluation Center welcomes patients in need of initial consultation or second opinion regarding abnormal chest imaging. The center prides itself on providing consultation within 1 to 2 weeks from request. Phone consultation available at 631-444-2981.