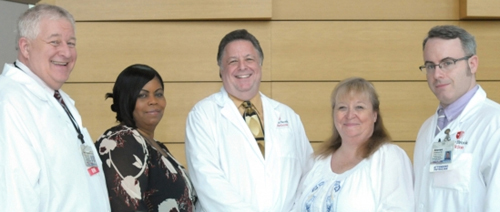 Our Burn Care Service manages the Suffolk County Volunteer Firefighters Burn Center of University Hospital — the only designated burn care facility in Suffolk County. Its surgical and medical staff provide the most sophisticated care to both adults and children with major burns.
The Burn Center is designed and equipped to meet the special needs of burn patients, and is certified by the American Burn Association. The original center, an eight-bed unit, was established in 1984 by our founding chairman, Harry S. Soroff, MD, who had a special interest in burn care, and served as the center's first medical director.
The new Burn Center, opened in January 2014, includes light, spacious private rooms. In keeping with the hospital's patient- and family-centered care philosophy, the rooms are able to accommodate overnight visitors who wish to stay with their loved ones.The center expects to treat about 200 patients, both adults and children, annually.
The key to managing any type of burn, but particularly the more severe kind, is to get appropriate treatment as quickly as possible. That means not only going to a facility with the advanced expertise, protocols, and equipment, but also one that has these capabilities 24/7. The Burn Center of University Hospital, thus, has long been the go-to facility in Suffolk County.
In addition to private rooms, the new Burn Center includes an expanded debridement and bandaging area, larger treatment rooms, and a more comfortable healing environment for patients. All advance the quality of burn care at Stony Brook.
As the designated burn care facility for the more than 1.5 million residents of Suffolk County, the Burn Center coordinates burn services throughout the county, and provides a resource for training and research in Burn Care. It also serves as a resource to neighboring community-based hospitals.
In addition to initial assessment and ongoing intensive and surgical care, the Burn Center team provides the physical and emotional supports that are an important part of the total rehabilitation of burn patients.
Through its commitment to the local community, the Burn Center gained the enthusiastic backing of Suffolk's volunteer firefighters, who in 1986 created the Suffolk County Volunteer Firefighters Burn Center Fund to help support special clinical and research initiatives. The Burn Center was renamed in 2013 in honor of their support of it.
One early initiative led to the creation of our novel Living Skin Bank, which provides a unique clinical resource for wound dressings that benefit our patients. The Fund has done much more over the years, and it demonstrates the community's support of the Burn Center at Stony Brook Medicine.
Click here to read about the 2014 opening of the new Burn Center. Watch these videos of patient stories:
Former patient Lorraine Fuchs shares what it's like to be treated at the Suffolk County Volunteer Firefighters Burn Center.

Former patient Anthony Musemeci shares what it's like to be treated at the Suffolk County Volunteer Firefighters Burn Center.