The Department of Surgery is committed to fulfilling Stony Brook Medicine's mission of excellence in patient care, education, research, and community service. Here at our website, you will find information about our clinical services and academic programs that define us and distinguish us.
Whether you come to Stony Brook for clinical or academic reasons — to be healed; or, to learn how to heal — you can be assured the Department of Surgery is determined to meet your expectations at the highest possible level of performance and success. — Chairman's Welcome
In the News

Rare Double-Lip Reconstructive Surgery Being Done for African Boy Mauled in Chimp Attack; First Procedure of Series Performed Successfully
Read More

Introducing Our New Surgical Oncologists and Division Chief; Division of Surgical Oncology Enters New Era of Excellence and Innovation
Read More

Creating the John J. Ricotta Professorship in Surgery at Stony Brook Medicine; Perpetuating the Legacy of Excellence of Past Chairman
Read More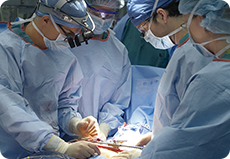 Residency & Fellowship Programs
The Department of Surgery provides residency and fellowship training programs that are fully accredited by the Accreditation Council for Graduate Medical Education, which is responsible for the accreditation of post-MD medical training programs within the United States, based on established standards and guidelines.
Learn More