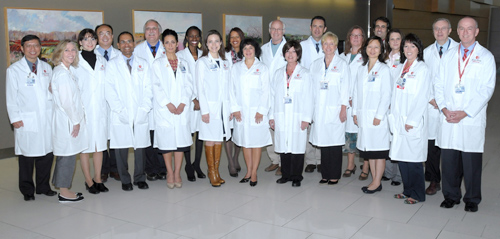 Responding to the special needs of women on Long Island, Stony Brook's Carol M. Baldwin Breast Care Center — named in honor of breast cancer awareness activist Carol M. Baldwin — provides comprehensive management of breast cancer and benign breast disease. It is located in our Cancer Center (map/directions) on the campus of Stony Brook Medicine.
In addition, our physicians see patients at our two satellite offices, one in Smithtown (map/directions) and the other in Hampton Bays (map/directions).
The multidisciplinary Breast Surgery Service brings together the expertise of clinical faculty and staff from the departments of surgery; medicine; radiology; radiation oncology; and obstetrics, gynecology and reproductive medicine. Breast surgeons and mammographers work side by side to complete the entire evaluation at the patient's first visit.
The Breast Care Center offers convenient outpatient breast surgery, as well as stereotactic biopsy procedures. Both radiation and medical oncologists are available for consultation. Specialized lymphedema treatment, if needed, is available through the physical therapy department.
In 2012, the Breast Care Center received full three-year reaccreditation by the National Accreditation Program for Breast Centers (NAPBC). In 2009, it was granted full three-year accreditation by NABPC, and was the first breast center in New York State to receive NAPBC accreditation. A breast center that achieves NAPBC accreditation has demonstrated a firm commitment to offer its patients every significant advantage in their battle against breast disease.
The NAPBC Performance Report Summary says:
The breast specialists at the Carol M. Baldwin Breast Care Center provide all the necessary components for complete, state-of-the-art, and comprehensive breast care. They diagnose and treat benign and malignant disease, and have a well-developed algorithm for patient intake and navigation through the diagnosis and treatment phases of breast cancer care. They offer multiple educational and support services, as well as offer community outreach education and many different types of screening and support programs to satisfy the diverse cultural mix of their patient population.
Established in 1993, the Breast Care Center continues to serve as the model of the highest quality breast care on Long Island. It was the first of its kind here, and still is the only one of its kind to provide multidisciplinary care.
For more information, please visit the Center's home page.